A Geeky Day with my Nephews
Yesterday I took care of my nephews while their mothers and my wife spent a long day at a spa in downtown San Francisco. I did my best to spoil them, keep track of all of them and make sure we did at least one thing that each one of them wanted to do. We also ended up talking about technology quite a bit and I learned a lot about what boys their ages (4 to 10) think of the digital world they're growing up in.
When I picked the eight and 10-year old up from home the younger one was playing games on his mom's iPad and the older one had an XBOX game in hand. They're idea of fun would be to sit in front of my TV all day and play games, but I told them we were going to spend the day out with their little cousin. The day's events went something like this: hot dogs & quesadillas ->  buy chocolate, candy and ICEEs -> movie -> Apple Store -> stuffed animals -> Radio Shack -> playtime w/toys -> XBOX 360 -> Pizza.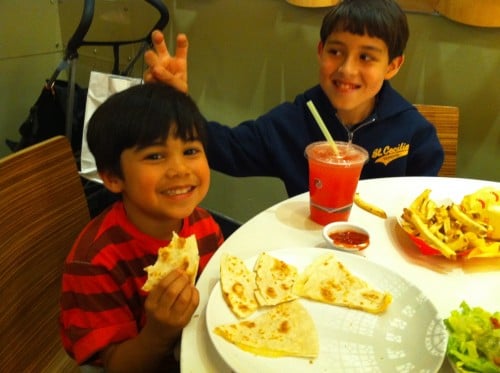 Before lunch we headed over to the box office to buy tickets for Despicable Me, an animated movie that's full of gadgetry and co-stars what could pass for an evil version of Bill Gates. The Cinemark theater was showing the movie on two screens, including one Extreme Digital Cinema screen in 3D. The Extreme Digital (XD) theater is pretty much just marketing-speak for larger screens. Some people compare it to IMAX, but there isn't really anything special about it other than a larger than typical screen- in some locations Cinemark simply picked the largest screen at its locations and deemed them XD.  I asked the boys if they wanted to see the movie on the small screen or big screen and they enthusiastically chose the big screen. When the salesperson told me the total was $55 ($16 for adults, $13 for kids), my nephew exclaimed "They charge $55 for movie tickets!" Even an eight year old seems to think something is off here.
I jokingly told him that we could see it in 2D for half the price and all three of them let me know there disdain for seeing a 2D movie when they knew it was available in 3D. The kids really enjoyed the movie and it's clear that the 3D aspect wasn't lost. Film purists and others complain that 3D is a gimmick, but my nephews disagree. When I was a kid I saw the occasional 3D movie in theaters, but these days these kids are seeing just about all of their favorite films debut in 3D. They expect they're entertainment to come in three dimensions.
After the movie we headed to the Apple Store at the 10-year old's request. On the way to the flagship Apple store  I asked my nephew why he wanted to got here so badly and he said it's because he wanted me to buy him an iPhone. I firmly told him that this wasn't going to happen and asked him why he wanted an iPhone so badly since he already has an iPod Touch and is surrounded by his parent's Apple products including a pair of MacBook Pros, an iMac, iPad and a pair of iPhone 4s. He said he really wants to be able to call his friends, who apparently already have mobile devices.He said he wants any phone and would be completely happy with one of those flip phones that people used back in the 'old days.'
He then asked me what the Droid was all about and how it was different than the iPhone. I put n terms that I thought he could understand: "There are a lot of Droids to choose from, but only one iPhone per year. If you like Apple stuff you should buy an iPhone someday, if you like Google stuff better you should get a Droid someday."
"But what about games and apps," he asked. "Does Google Droid have all the same programs as iPhone?"
"Nope, but they have different programs that some people like better than iPhone games and apps," I said. He seemed genuinely intrigued at the idea of there being a whole alternate universe of mobile apps and games. Despite being raised in an all Apple household,  I wouldn't be surprised if he rebelled  against his parents and bought a non-iDevice when he's old enough.
My oldest nephew was very pleased to see the Apple flagship store for the first time. They all seemed to enjoy the glass stairways and asked if all stairways would be like this in the future. I felt like telling them they already live in the future, a time when they could grow up taking things like 3D movies, mobile Internet and realistic gaming for granted.
The trio quickly found an array of iMacs loaded up with video games and settled in. Since I don't have any kids of my own I've never paid much attention to the kids section at the SF Apple store, but I now know its true intended purpose. You can call it either marketing genius or sneaky, but the iMacs are strategically placed in the software and accessories section of the store. With the kids busy playing video games, there's a small cloud of parents in the corner of the store making impulse buys. I took the opportunity to pick up some iKlear screen cleaner, an iPhone 4 Bumper for my wife and an Incase Sleeve for my MacBook Pro. I also explored Apple's range of bags, software and speakers. Those few iMacs are probably the most profitable iMacs in the world.
After the Apple Store we headed back to my home, but stopped over at a toy store to pick up some stuffed animals. The older boys wanted to go to Radio Shack, where we picked up Hex Bug nanos. These tiny little devices crawl around and have some logic built in to them so they can avoid obstacles. We spent the next 20 minutes or so browsing the store shelves and I answered a bunch of questions about how the stuff all works. Though Radio Shack is a lot less geeky than it was back when I was a kid, it's still a magical place for boys.
When we got home home the boys spent over an hour chasing around the Hex Bugs. It's pretty amazing what companies can build for $8 these days. I offered to trade them some bugs from my backyard for their Hex Bugs, but they correctly pointed out that their aunt wouldn't want real bugs in her living room.
Later in the night we fired up my XBOX 360 and a Star Wars Lego game. The youngest boy doesn't have a game console at home, but within a few minutes he was fully capable of using the complex controller. When I was four I learned to game with a joystick and it was an adjustment to migrate to the Nintendo's d-pad + two button controller.
I asked the older boys if they and their friends like the XBOX 360, PS3 or Wii more. The oldest told me "All of the boys in our classes have XBOX because it has HALO. A few of them have PS3s, but only if they already have an XBOX. Wii games are boring and too simple." Apparently, the 10 year old is getting sick of the simple, repetitive games on his iPod Touch and likes the complexity and graphics found on XBOX 360 games. I asked him what he would want to play mobile games on and he promptly told me he wants a PSP really badly because its games are good and XBOX doesn't make such a device. I found it interesting that there seems to be a generation of kids hooked on Microsoft's gaming experience, but the company is completely missing the boat on mobile gaming.
We finished up the night with a round of spaghetti, Pizza and fort building. I'm not sure if the boys or I had moe fun yesterday and I'm looking forward to the day that they're showing their old uncle how to use some technology that I can't wrap my mind around.

This article may contain affiliate links. Click here for more details.