A Glimpse at Possible iOS 7 Future Features with Peekly
A new Jailbreak tweak called Peekly shows that Apple can do a lot to change-up the lock screen and other aspects of iOS in the next iteration.
First spotted by 9To5Mac, Peekly is a lock screen tweak that adds a calendar and weather forecast to the lock screen without making it look cluttered. Peekly uses swipes to show different information, so it's hidden when not in use.
As the video below shows, a swipe to the right will show a calendar with three months. The calendar highlights the current date and shows the previous month and next month. Such a calendar can potentially show which days have appointments, and which are free.
A swipe to the left in Peekly will bring up another lock screen with current weather information in place of the clock (which also has a new design). The screen shows the current temperature, location and other pertinent weather information such as precipitation. Another swipe to the left will open a tray with the four-day forecast.
Peekly is also customizable. Instead of the three-month calendar on the left users can choose to display a Twitter feed, Google calendar or an RSS feed.
Installing Peekly is relatively complicated, as it involves using SSH to enter the file library of the iPhone, but the results could be worth it for some users. Once installed users can change the clock or the default "peek" if they so choose.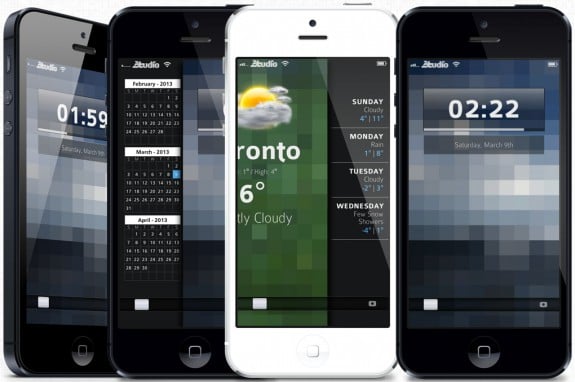 Peekly is only available for Jailbreak users at the moment, but it shows that Apple can do a lot more with the lock screen and iOS in general than what it does now. The next version of iOS, iOS 7, has the potential to add a lot of new features to the platform.
Apple's mobile OS hasn't change much since its debut in 2007, and with iOS 7 likely coming this year it seems like it's time to make a few changes. In the past Apple took influences from the Jailbreak community (the notification banner in iOS was a jailbreak tweak first), and hopefully it will build something like Peekly and other tweaks into iOS 7. Although it'd be nice to see the company take iOS in another direction that Jailbreak tweaks can't do yet.