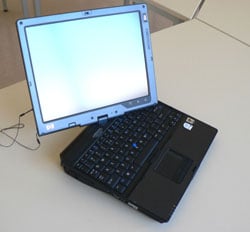 For those considering a Dual Core Tablet PC, HP's TC4400 should be on your short list. Fortunately, Stephane Torres, a fellow Tablet PC MVP, has just published a thorough review of the TC4400, with plenty of close up pictures and details.
I tried the TC4200 for about a week last year and was fairly impressed with it. As far as features go, it seemed to offer the most features for the dollar and is a great light weight convertible Tablet PC.
TabletPCCorner.net is in French, so use your favorite online translator.