A look at the Mobility Center
Craig Pringle, a Tablet PC MVP, has posted a great overview article on Vista's Mobility Center. Trust me, if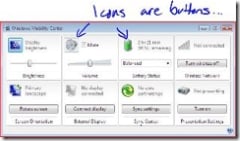 you own a Tablet PC, UMPC, or a laptop, you will be spending some time in the Mobility Center. So now, is a good time to familiarize yourself with it. The Vista team did a great job of bringing together the many apsects of mobile computing and providing a clean, central location to the most common issues faced by mobile professionals.
The Mobility Centre is one of those Vista features that once you find it and start using it you will wonder how you ever got along without it.
The first thing you need to know is how to get to it. You can of course find it in the control panel, or if you enter ""Mobility" into the Start search box you will find it. However there is an easier way, the keyboard shortcut Windows key + X. That is fine if you are docked or in laptop mode on a convertible; but for tablet use I recommend assigning a hardware button to launch the Mobility Centre.

As an Amazon Associate I earn from qualifying purchases.