A Love Affair with a Tablet PC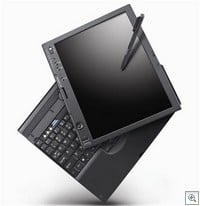 Tablet PCs (and Ultra-Mobile PCs) are very, very personal choices. Depending on your work and play needs, different models and different makes suit different users. I'm lucky. I get to get my hands on quite a few different Tablet PCs due to my association with GottaBeMobile.com, and I'm very grateful for that. Most users, or prospective users, don't get that opportunity.
For awhile now I've been using a Lenovo ThinkPad X61 Tablet PC, and I've been more than satisfied with how it fits my needs. That doesn't mean I haven't been shopping around and taking advantage of opportunities to try out the other Tablet PCs that come my way. But I've come to realize, at least for the moment, that the Lenovo ThinkPad X61 is the Tablet PC that has my affection. Here's why I have a love affair with this Tablet PC and some things I think can be improved upon.
Hi-Res screen. Yep. That's been a priority of mine for some time, and will continue to be so. The Lenovo's SXGA+ screen fills this need nicely. Although I'm not that enamored of the SuperView screen, and the diligence it takes to keep it clean, I really like how this screen looks in every situation that I need to use it in. As long as it is clean.
Battery Life. On one charge and using the Power Optimized profile, I'll get just under five hours of battery life the way I use the X61. Nothing I do requires more than that without getting next to a plug or swapping out a battery.
Processing Power. Since I use the Tablet PC as my primary computer, I've yet to find any task that I throw at it that feels like it drags the machine down. The most extensive tasks I perform on the X61 are producing videos and the X61 handles those chores well. While the move is to the ULV Axx processors on mobile devices, I'm just not sure they would work the way I need them to work.
Inking. While there are other Tablet PCs that have excellent Inking ability, the X61 does as well and it more than serves my needs on that front. It still is a joy to whip the screen into Tablet mode and Ink away. In fact, when I get a breather and can do so for leisure purposes, it reminds me of what the Tablet PC experience is all about for me.
Convertibility. Yep, it is a convertible, and that's what I need. I really enjoy using this keyboard.
Weight and Size. While there are smaller and lighter Tablet PCs out there, the X61 one feels just right in my hands. I've never once thought of it was too heavy or too cumbersome. There are also larger makes and models out there, but they don't fit my personal needs.
Some things that need improving.
I'm sure Lenovo is working on what comes next. Here are some suggestions for future ThinkPad Tablet PCs.
SuperView Screen Gunk. I've already mentioned how I don't like the coating or whatever it is on the screen that picks up dust, fingerprints, grease and grime. Thanks to finally discovering the Shwamee Microfiber Cloth, this issue is less of one for me. Lenovo needs to rethink this, or enter into an agreement with Shwamee to include their cloth as a part of the package.
Utilities and CRAPWARE. Lenovo includes a complete suite of utilities that quite frankly border on being CRAPWARE. There doesn't seem to be a utility idea that they don't include and many duplicate functionality that already exists in the OS. While some are useful, some end up getting deleted right away (Access Connections, most of the security stuff, System Migration, etc ) I know this isn't an optimal solution but when the Tablet PC is getting set up, give the users a choice to install or not install these features rather than just pushing them all onto the system.
Resist the Urge to go with the ULV Axx processor. I don't have any knowledge one way or the other what Lenovo's plans are. I just hope they don't go down this route. For those who use these Tablet PCs as our main workhorse, we can't afford a comprise on performance here.
Allow for more customization of the ThinkVantage Button. Allow users to add their own applications to the ThinkVantage Button. Simple. Make it so.
Get the Shipping, Ordering, and Customer Service stuff worked out. Lenovo needs to get off the stick here and make a concerted effort to get their shortcomings in these areas worked out. The GBM Forums (and others) are filled with all sorts of horror stories. Lenovo has a great Tablet PC in the X61 and I have no doubt whatever is coming next will also set a standard. I said when I first reviewed the X60 that Lenovo had set a new standard, and I think they continued that with the X61. The only thing holding them back is poor customer service on all of these levels.

This article may contain affiliate links. Click here for more details.