A Microsoft Vision for 2019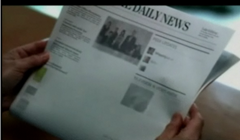 Long Zheng of istartedsomething has uncovered video from Microsoft Office Labs that shows the vision for 2019. I have to say what we see in the video looks pretty amazing and I'm sure we'd all like to get where this video shows us going. A number of the technologies we're seeing in their infancy today (touch, Surface, etc ) play important roles here in the video in areas of education, drawing, transparent displays, and other fun stuff. Given what's happening to publications printed on paper these days, the digital newspaper is a very interesting prospect (about 4:15 in the full video) as well as the digital coffee cup. After the jump is a video/montage of what the 2019 vision is and if you head over to istartedsomething you can view the entire video. Well worth it.

As an Amazon Associate I earn from qualifying purchases.