Enterpising Origami Project forum member HerDinky spied what looks like it might be a new Asus UMPC the R2E. Not much word on the specs other than that it has a WXGA screen and HSPDA, but it looks like Asus might be moving ahead on that front as well as a MID front. Also of note is what appears to be an updated Arima UMPC that gets rid of that split in the middle of the keyboard. Quite a few UMPC pictures at this link.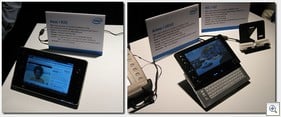 Via UMPC Portal
Meanwhile, jkkmobile has linked to a video of the Asus R3 MID running Linux.

This article may contain affiliate links. Click here for more details.