A Shift in the Cloud: Google to Roll Out GMail 2.0
Google is making big moves on the big email front in the cloud. They began rolling out IMAP support last week (I just got it yesterday, others are still waiting for it to show up) and now comes word that they are starting to roll out a 2.0 version of the very popular GMail. Phillip Lenssen of Google Blogoscoped as quite a bit of coverage and quite a few pictures of what's coming in GMail 2.0.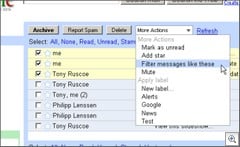 From what I've read the big advances in 2.0 are improved speed and better contact management.
So, how many GBM Users rely on GMail?

This article may contain affiliate links. Click here for more details.