A Tablet PC Education Success Story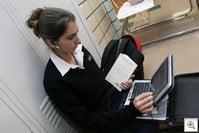 A good read here. This case study covers a successful program at Bishop Hartley High School in Columbus, Ohio using Tablet PCs in the classroom. Here's an excerpt:
Bishop Hartley High School is a private Catholic high school in Columbus, Ohio. The school's administrators wanted to deploy technology in the classroom to enhance learning for all students. So when Tablet PCs pre-installed with Windows® XP Tablet PC Edition arrived in November, 2002, the Diocese of Columbus embarked on an ambitious one-to-one computing program in which students use the Tablet PCs all the time. The ultra-portable form factor, pen-enabled computing, ink-integration for the Microsoft® Office system programs, and wireless capabilities have captured students' and teachers' imaginations. Over the years, students have used the Tablet PCs to enhance their individual ways of learning, and teachers incorporated the technology into their lessons. With students working harder and enjoying school more, Bishop Hartley's Tablet PC one-to-one computing program is a lesson in success.
These folks seem to have paid attention to the right things as they were putting their program in place. Give the article a read.

As an Amazon Associate I earn from qualifying purchases.