A tablet that isnt an iPad- AIS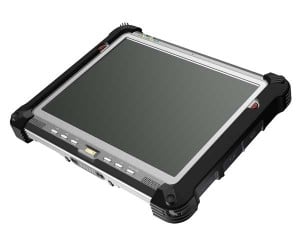 Just to prove to you all that all tablet news isnt about the Apple iPad, here is another vendor ready to take a shot at the iPad crown, the AIS Outdoor Rugged Tablet PC.
The specifications on this:
Military spec
A 1.6 GHz Intel Atom Z530 Processor
A 10.4" XGA high resolution LED Transflective LCD
A Low-Reflectance Resistive Touchscreen
2.6 lbs
Up to 6 hours Operating Time (with 2nd Battery)
802.11 b/g/n WLAN; Bluetooth V2.0 +EDR, 3G
Hot-Swappable 2nd Battery Option
Windows XP Professional Embedded / Windows XP Embedded
Accessories include Add-on 2nd Battery; Cradle/Dock; Credit Card/MSR (magnetic swipe reader); Barcode Reader; Rubber Grips; 3G Module; Stand
There is no pricing information on this yet.
It is nice to see something other than the iPad coming out.  While the AIS may not be ideal, its only a first generation device.  Vendors are still trying to "get all the kinks" out before they try to compete with Apple.  I am sure this is only the first of many tablets to come over the next few months.

This article may contain affiliate links. Click here for more details.