A Tool to Customize the Office 2007 Ribbon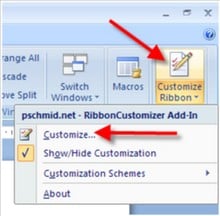 I've gotten very used to the Office 2007 Ribbon interface and have to say I like the new interface very much. But I'm sure there are those who are still adjusting and those who want to customize to their heart's content.
Microsoft MVP Patrick Schmid has come to the aid of those who want the Ribbon their way. He's created a tool, called RibbonCustomizer Professional, that offers a point-and-click interface that allows you to shift things around. The utilty costs $29.95 and there is a free edition (with limitied capabilities), along with a 30 day trial.
Patrick also provides a thorough overview and a demo of how Tabs and Groups are structured.
Check it all out here.
Hat tip to Marc Orchant.

As an Amazon Associate I earn from qualifying purchases.