A Vista Asus R2H Coming To Market?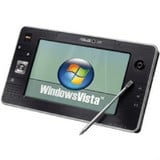 Hmmm? In the continuing "hurry up and wait" that those waiting for Vista Drivers for the Asus R2H are quickly becoming accustomed to, there's been some word trickling out that there may be an Asus R2H coming to market with Vista pre-installed. The Orgami Portal tracked down some info and it is intriguing, but color me skeptical. First there's the picture. Second there's the fact that on the Micro Anvika site (the British reseller) the OS is listed as Microsoft Map Vista Premium in one area and Microsoft Map Vista Home Premium in another.
I may be just too skeptical for my own good, and I'd certainly love to see Asus come to market with a Vista R2H (at least that might mean some Vista drivers might see the light of day before the next Microsoft OS rolls out), but I'll wait and see on this one.

As an Amazon Associate I earn from qualifying purchases.