A Wonderful Example of Windows 7 Touch Optimization
Windows 7 enthusiast Justin Campana has put together a wonderful custom interface for a fully touch-optimized environment using a combination of ObjectDock, widgets, themes, and the right applications on his ASUS Eee EP121. Beautiful.
The heart of the interface is ObjectDock, possibly the best dock application for Windows. The application dock is well-designed to keep the screen from being obnoxious with icons. The colors and themes he's chosen give it a clean, professional look. Taskbar auto-hidden on the side has been part of my usual tablet layout for years.
The key element in his design to me is the button dock. Application docks and launchers are great for getting to applications via touch control, but getting things done in applications can be a crap shoot. By moving common commands to a dock, Justin removes some of the guess work. I realize flick gestures are also an option here, but let's face it, buttons are just easier for most people. Unfortunately, it doesn't work if an application launches fullscreen in a manner that goes over the dock, as seen with his Angry Birds demo.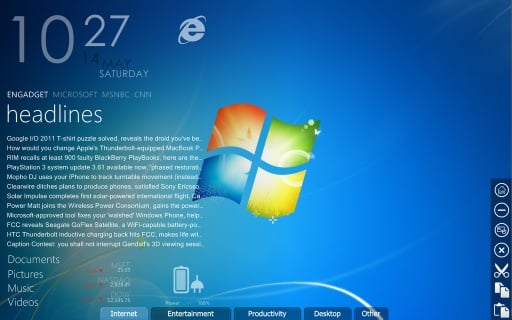 That minor flaw aside, the effort appears both attractive and effective. I rank it well above the usual overlay approach with Windows tablets I've seen from various OEMs. It is somewhat regrettable pen input did not factor in to the interface since the EP121 has a dual digitizer, but between that omission and the de-emphasis on gesture control, it's clear Justin was aiming for accessibility and intuitive control. If so, I think he nailed it. For details on how he put this all together, check out Justin's blog, Windows 7 Touch Optimizations.
Via BGR

As an Amazon Associate I earn from qualifying purchases.