A Word of Caution about Photo Stream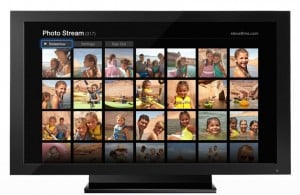 Photo Stream is one of the new iOS5 features that promises to make life a little easier when it comes to getting photos off of your iDevice. It's a part of Apple's iCloud service and the setup is pretty quick. (Check this post.) But keep in mind that if you share your iCloud connected computer with a family member or friend and you're out and about snapping some party pictures with your iDevice they'll be seeing what comes in on your Photo Stream before you get home.
Hopefully we've all learned by now that anything that goes on the Internet in any fashion is really not private, but, at the moment, there's no real easy way to delete a file once it is photostreaming into the iCloud. So, if you're taking some photos that you'd rather remain private, you might want to consider turning off  the Automatic Upload funtion in Photo Stream before you do so.
There are other reasons beyond the compromising to want to delete photos from your Photo Stream as well. Reviewers who take reviews often take quite a few screen shots off of their iDevices. I'm not sure I want all of those hanging around for 30 days either.
Remember Photo Stream only keeps the last 1000 photos on your iDevice and after a photo has been there for 30 days it will disappear from the iDevice, but it will still be in the iCloud. If you're picture heads up into the iCloud, you'll need to do a reset to get rid of it, but that erases everything in your stream.

As an Amazon Associate I earn from qualifying purchases.