ABC Nightline Visits Foxconn To See How Apple Devices Are Made (Video)
In the past few weeks Apple has come under a lot of scrutiny over its contract with Foxconn and the plant's safety.
Apple has since joined the Fair Labor Association which it paid to do an audit on the factory. In addition to the audit, Apple invited Bill Weir of ABC's Nightline to visit the Chinese factory and see just how iPads, iPhones, MacBook Pros and just about all other Apple devices are made.
Foxconn, of course, doesn't just work for Apple. The factory-city also manufactures devices for Microsoft, Sony, Amazon, and Motorola among many others. If your device was made in China, there's a very good chance it was made in Foxconn. The focus of Nightline, however, is on Apple.
You can get a sneak peak at the Nightline report in the video below, which takes you inside Foxconn to see how the iPad, iPhone and MacBook Air are made.
On Tuesday, February 21, at 11:35 p.m. ET/PT ABC Nightline will give us a tour of Foxconn, or at least the Apple production lines and the dorms. We'll get to see just how the factory workers put together the iPad and MacBooks, and the type of conditions they work in. Or, at least we'll see the type of conditions Foxconn wants us to see. With the plant knowing about the visit and the Fair Labor Association audit days in advance, it's easy to think the company created a new, clean space in preparation for the visit.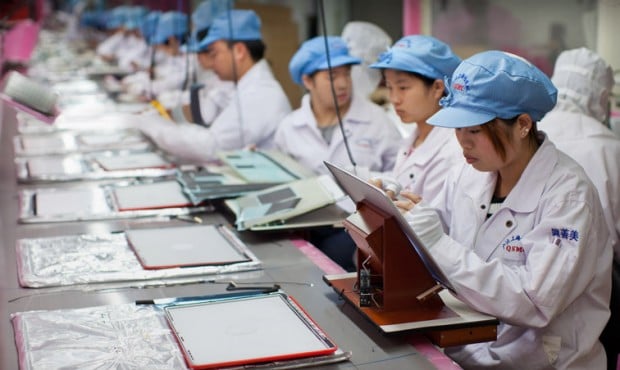 If you don't want to wait to hear about the Foxconn visit, ABC has a story online about the visit. Some of it discusses the workers who spend more than ten hours each day doing simple tasks like carving the Apple logo into the back of an iPad or flipping camera sensors with tweezers. There's talk about labor unions and how they could be more powerful in the plant, with Foxconn executive Louis Woo saying that he sees "hope of labor unions becoming more powerful but it's not here yet."
It will be difficult to say how much of the Nightline special is true, and how much is just what Foxconn wants reporters to see. Hopefully the employees will give some insight into the factory, even if the production lines don't.
We can't be too sure about the state of the factory until the FLA audit report comes out in March. With its method of anonymous questionnaires given to employees it should hopefully give some better insight. For now we have the Nightline story, which should at least be interesting to watch and is already an interesting read.

As an Amazon Associate I earn from qualifying purchases.