Acase Collatio iPhone 5 Case Review: A Leather Wallet for Your iPhone
The Acase Collatio iPhone 5 Case gives users an attractive two-tone brown leather wallet case for their iPhone 5.
Wallet cases offer some protection for an iPhone, while adding wallet functionality. Most of the time they're small and let the user carry just a credit card or two, a license or ID card, maybe some business cards and cash or receipts. Users shouldn't expect to store too much in them.
Fans of wallet cases will like the stylish look and useful pockets in the Acase Collatio iPhone 5 Case. However, a couple of minor annoyances detract from an otherwise premium wallet case for the Apple iPhone 5.
Acase Collatio iPhone 5 Case Design and Look
The Acase Collatio iPhone 5 Case looks great. It's made of genuine leather, which Acase calls Chestnut. The binding edge feels and looks softer than the rest of the leather. Inside the screen cover three credit card pockets and a longer vertical pocket let you stash some cash, cards, receipts or whatever needed.
[ratingbox]
Functionality and Protection
The wallet case covers the sides of the case and strips of leather cover the iPhone above and below the screen. But the left edge of the phone with the mute and volume buttons aren't easily accessible. We struggled to mute the phone because the opening is too small.
The wallet will definitely protect the phone from most drops. We accidentally tested this a few times and it passed. We like that most of the phone gets covered. We don't like that the bottom makes it really difficult to insert a 30-pin to Lightning adapter. Users who charge their phone with one will either have to remove the phone or buy a new cable. We blame Apple for not making the insert long enough on their adapter and not letting case makers see them early enough to ship cases that won't cause this problem. It's an issue no matter who's to blame.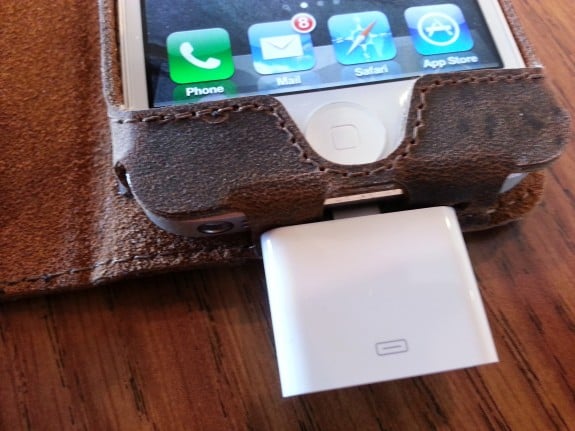 The flap that covers the screen doesn't lay down flat right out of the box without anything in the pockets. Put a few cards or some cash inside and it closes like George Costanza's a wallet. This should correct itself over time as the genuine leather softens and with use, though.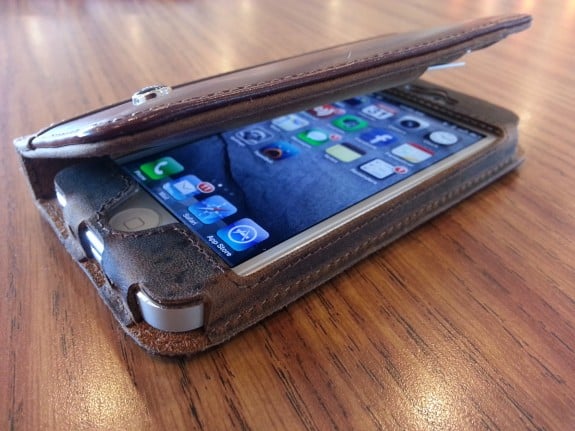 Recommendation
The Acase Collatio iPhone 5 Case is one of the best of its kind. Fans of the wallet case will like the look, feel and protection of this case. We wish the screen cover would lay down right out of the box, but over time the case will likely soften and wear in enough that it should lay flat.
User's can get their own Acase Collatio iPhone 5 case for just $39.90 from Acase, or save $10 getting it on Amazon.