Acer Announces Budget Nexus 7 Competitor
Acer finally announced its new budget 7-inch Android tablet at CES, the Acer Iconia B1-A71, a Nexus 7 competitor that will cost "less than $150."
The Acer Iconia B1 is the rumored inexpensive Nexus 7 competitor that was recently leaked online. The tablet has a 7-inch screen like the Nexus 7, but it has a 1024×600 resolution instead of the 1280×800 resolution of the Nexus 7.
The new Acer tablet also uses a slower, less expensive dual-core 1.2GHz processor from Mediatek as opposed to the quad-core 1.3GHz Tegra 3 processor in the Nexus 7. The Iconia B1 also has only 512MB of RAM and 8GB of internal storage space. The Nexus 7 has 1GB of RAM and currently starts at 16GB of internal storage space.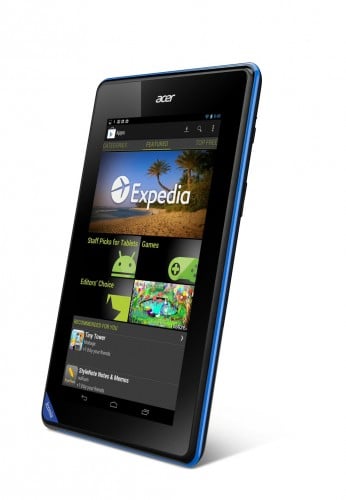 The Acer Iconia B1 will run Android Jelly Bean when it comes to market, though it's not clear if Acer means it will run Android 4.1 Jelly Bean or Android 4.2 Jelly Bean. The tablet will also have a 0.3MP front-facing camera, a microSD card slot for expandable storage space and a 2170 mAh battery.
Acer claims the Iconia B1 is ideal for families looking to buy a second tablet for their children, or for busy executives who want a lightweight tablet to carry around. The first suggestion seems like a natural fit for an inexpensive tablet. The latter suggestion doesn't seem right, however, as no executive would prefer this tablet over something like the Nexus 7 or the iPad mini.
Even at less than $150 the Iconia B1 will have trouble competing against the Amazon Kindle Fire which now sells for $159. The two tablets have relatively similar specs, but the Kindle Fire carries the Amazon brand which is more well-known than the Acer name.
The device will also have a hard time competing against even the $330 iPad mini which has access to more apps through the iOS App Store.
Acer didn't announce a release date for the tablet yet.

As an Amazon Associate I earn from qualifying purchases.