Acer Announces Iconia W700 Windows 8 Tablet for $799
Windows 8 is just a few weeks away from release which means this month we'll see a plethora or Windows 8 tablets, Ultrabooks, laptops, and hybrids. Today we have Acer's latest tablet, the Iconia W700.
The Acer Iconia W700 is the manufacturer's 11.6-inch Windows 8 tablet. Unlike other Windows 8 tablets which can convert into a laptop with a keyboard dock, the Iconia W700 is a tablet first with an optional cradle stationary work.
The Iconia W700 boasts a 1080 11.6-inch display and Intel Core processors which let it run the full Windows 8 instead of Windows RT. Of the three W700 models available two use the Intel Core i5 processor, and one uses the Intel Core i3 CPU.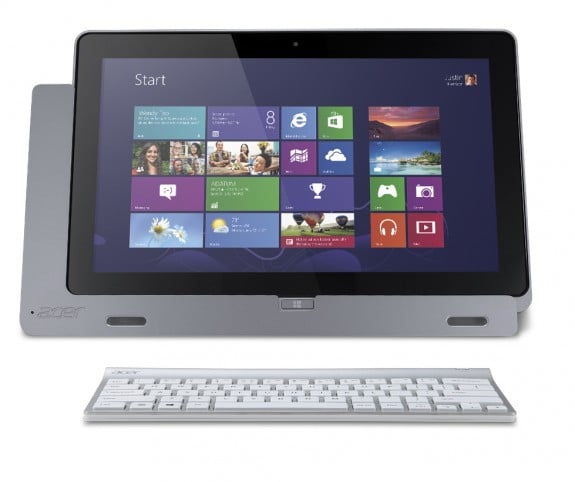 All three models include Intel HD Graphics 4000 (the same graphic chips Apple uses in the MacBook Air). The tablet also has a 5MP rear-facing camera that can shoot 1080p video, and a front-facing HD webcam for video chat. The Iconia W700 will come with either 64GB or 128GB of internal storage space.
Acer includes a cradle with the Iconia W700 so users can set it upright on a desk for easier use. The cradle has multiple angles for different usage scenarios like watching movies, typing documents, or using the touchscreen. The cradle also looks like  it has multiple USB ports whereas the W700 itself only has one USB 3.0 port.
The Acer Iconia W700 will come to market in the U.S. on October 26 and will start at $799.99. That's $300 more than the base iPad. The W700 does run legacy Windows apps and has more storage space, but without an easy way to convert it to a laptop it may have trouble commanding a laptop price.

As an Amazon Associate I earn from qualifying purchases.