Acer, Asus, Toshiba Planning to Use Snapdragon?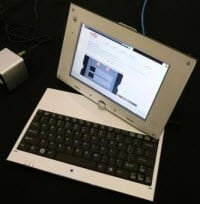 Interesting. According to this article at CNet, Asus, Acer and Toshiba are working on small notebooks using Qualcomm's instant-on solution, Snapdragon. Actually, according to Manjitt Gill (the interviewee) it is more like always on.
"Our vision is that (the device is) always connected. Even when you shut it down, it's still 'on.' (The laptop) goes to your Exchange server, gets your e-mail, puts it on the drive–solid-state or hard drive–and then when you're ready to do e-mail, you flip it open and it's right there. Instant on, always connected"
There is some more interesting info in the interview, including how Qualcomm sees the differentiation between what it calls Mobile Computing Devices (MCD) and the already established Netbook. Intel is also revealing some details about how it has ramped up the ARM processor to compete.
Well worth a read.
Via jkkmobile









As an Amazon Associate I earn from qualifying purchases.