Acer C720P Brings Touch to Chromebook for $299
The pundits may still be debating the wisdom and efficacy of Chromebooks, and Microsoft and the Pawn Stars might think they aren't worth much, but that's not stopping Chromebooks from selling or being manufactured. Regardless of what the naysayers proclaim, the browser based laptop pioneered by Google and also sold by HP, Acer, and Samsung do have a place for some users. Prices for non-touch Chromebooks range from $199 to $400. Google sells its touch based Chromebook Pixel starting at $1299. Acer has kept its prices below the competition with the C720 and will begin offering a touch based C720P for $299 in December.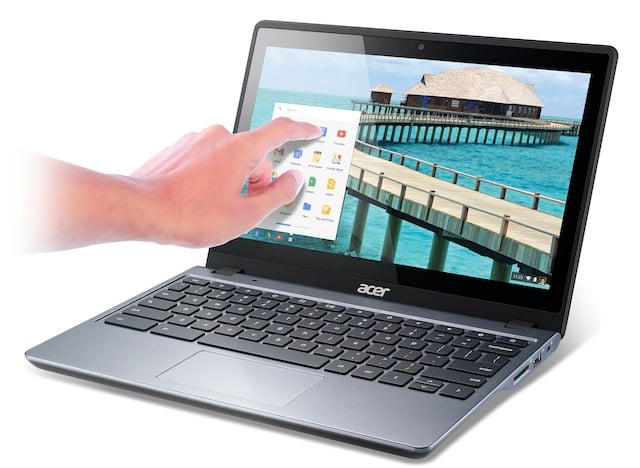 The big distinguishing factor here is adding the touch screen and the lower price. Beyond the touch screen, The Acer C720p will offer the same features and specifications as the non-touch screen model including the advertised 7.5 hours of battery life.
With touch screens now becoming an integral part of many mobile lifestyles, it was only a question of time before we started seeing them included on the lower priced Chromebooks and it Acer has taken the lead there. The Chromebook Pixel's steep price precipitated the debate about the value of the browser based platform, but at lower price points (and if the touch implementation works well) we could potentially see non-touch based Chromebooks become a thing of the past. Cost is certainly a key driver for consumers and is putting many in a position of evaluating their mobile computing needs when considering their next laptop.
The Acer C720P will feature an 11.6-inch ComfyView™ HD display with 1366 X 768 resolution. The multi-touch display lets users work with gestures such as swipe, tap, and pinch to zoom.
The Acer C720P will be available at Amazon, Best Buy and from Acer in early December.

As an Amazon Associate I earn from qualifying purchases.