Acer Chromebook 13 Brings 13 Hours of Battery Life, NVIDIA Tegra K1
Acer is the first Chromebook maker out of the blocks using NVIDIA's recently introduced the Tegra K1 processor in the newly-launched Acer Chromebook 13. This combination will give the Chromebook some decent graphics performance and up to 13 hours of battery life, besting the current Chromebook leader, Dell. This also means that fans of the Acer line of Chromebooks, like the Acer C720 or best selling smaller C720P 11-inch Chromebook, will now get a larger 13-inch option with a 1080p screen that doesn't sacrifice power or long battery life.
This machine's combination of potential speed, graphics horsepower and beautiful screen in what looks like an attractive white design with a full-size island keyboard means an almost certain hit among Chromebook fans. The Acer Chromebook 13 seems like the kind of machine that will win over some naysayers too.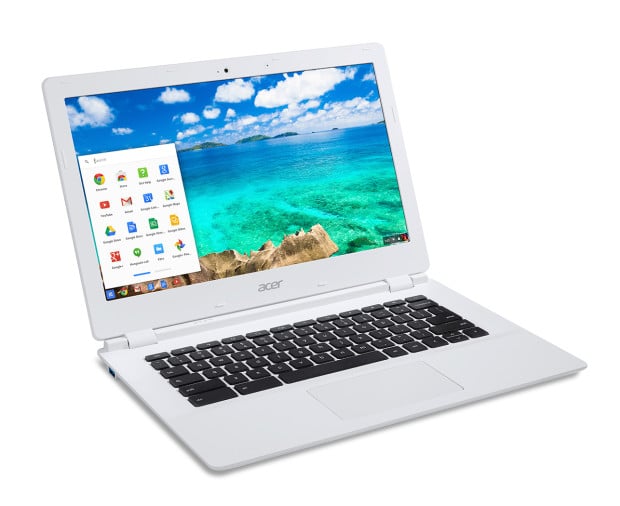 NVIDIA Tegra K1 Means Acer Chromebook 13 Packs Power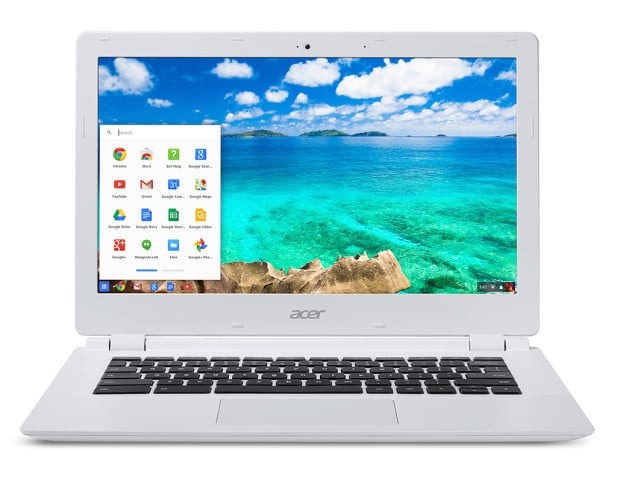 The Tegra K1 chip from NVIDIA allows Acer to give buyers a system with the best graphics power available in a Chromebook, rivaling the current crop that mostly run Intel Celeron or Samsung Exynos chips. The processor is an NVIDIA Tegra K1 4-Plus-1 quad-care ARM Cortex A15 processor. It packs gaming class power in a mobile processor for a great balance between performance and long battery life. Multi-tasking will get a bump in performance as will video codec processing while streaming movies and TV. General system speed will hopefully see a boost compared to the recent models available.
The user won't sacrifice battery life despite the added power; the system should last up to 13 hours. When necessary the computer can switch from the powerful quad-care chip to a single core without the user doing anything.
We've seen switchable graphics processors in the past, but that came in high-end systems like MacBooks and more expensive gaming systems running Windows. This marks the first time a manufacturer gives this kind of feature to Chromebook users.
Acer Chromebook 13 with a Full HD Display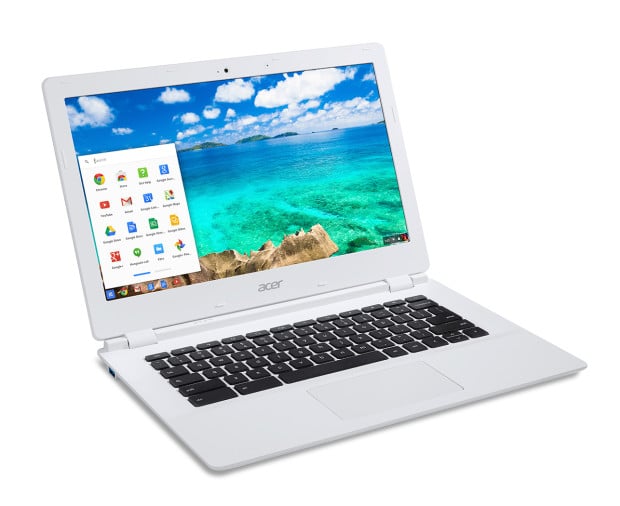 The biggest knock against the majority of lower priced Chromebooks was the lousy displays. Most give users 1366×768 resolution with such low contrast that most machines look washed out. Only a couple of Chromebooks ship with a bright or crisp screen, like the HP Chromebook 11 and the high-end Chromebook Pixel (which costs over $1,200).
The Acer Chromebook 13 will come in two versions, one with the same kind of low-res display most of the other Chromebook makers offer. This bottom level machine will save buyers some a few bucks if they don't need the 1920×1080 display. However, customers who want richer detail and better looking images, videos and crisper text will want to grab the higher-end model with a true HD 1920×1080 display. It only adds $20 to the cost, so don't even bother with the lower res model.
The added pixel count in the higher resolution model will cut the battery life down to 11 hours, from 13. A lot of Chromebook fans will gladly sacrifice 120 minutes for a better quality screen, especially when they will still get over ten hours on a single charge.
Both Acer Chromebook 13 computers will benefit from Acer's "ComfyView" anti-glare technology, which does an adequate job of reducing some of the glare on the glossy screen. Let's hope this combination of higher resolution and anti-glare will make for a rare thing: a beautiful Chromebook screen.
Other Attractive Specs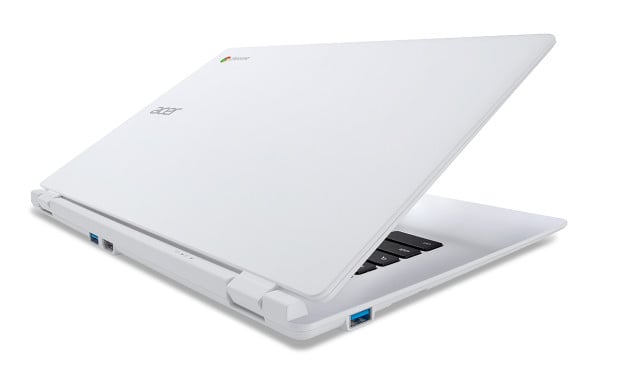 In addition to a faster processor and better screen option, the 13-inch machine will remain thin and light. It measures .71 inches and weighs just 3.31 pounds, making it lighter than our favorite larger Chromebook, the HP Chromebook 14, which weighs over four pounds.
There's no fan in the Acer Chromebook 13, meaning it'll be quiet. This also helps with battery life. Hopefully Acer did a good job with heat dissipation so it won't feel hot on the user's lap. The NVIDIA Tegra K1 processor makes a fanless design possible.
Acer includes 802.11ac Wi-Fi with 2×2 MIMO antennas, which gives users the fastest possible Wi-Fi performance available in a notebook. It's backward compatible with 802.11n.
The SSD gives users fast read/write speeds and results in faster boot times. Acer promises a boot time of 10 seconds.
A pair of fast USB 3.0 ports and an HDMI port round out the specs. There's also a 720p webcam for video chats.
Price and Availability of the Acer Chromebook 13
Acer offers the Acer Chromebook 13 for pre-order now at Best Buy for $299.99 with 2GB of RAM, the full 1080p screen, and a 16GB SSD. Look for model CB5-311-T9B0. The more expensive version, model CB5-3110T1UU available at Amazon, costs $379.99 and doubles the RAM of the cheaper version from 2GB to 4GB. It also bumps up the storage space from 16GB to a 32GB SSD. That's an upgrade that's well worth the extra $80 since a 4GB Chromebook will offer better performance for those with a ton of webapps or browser tabs open at the same time.
We can't imagine why anyone would choose the lower resolution 1366×768 screen with only 2GB of RAM and 16GB of storage, even at $20 less than the $299.99 model above. In fact, one wonders why Acer even offers the device? Potential buyers should steer clear.
The company also plans to sell another as yet unnamed model that will retail for $329.99 with the lower resolution screen and 4GB of memory. It uses a 16GB SSD. We can understand why this model might sell well to schools that don't need the higher resolution display, but do need the RAM for better performance.
To learn more about the NVIDIA Tega K1 processors, check out NVIDIA's site. See Acer's page for more news about these new Chromebooks.

As an Amazon Associate I earn from qualifying purchases.