Acer Introduces Two New TravelMate PCs and Docks for Professionals
Sure, the personal computing market may be dominated by the tablets, ultrabooks and convertibles made specifically for consumers, however PC manufactures would do well to ensure that their business and professional lines are also keeping up with new hardware trends. Take Acer's new Travelmate P645 and TravelMate X313 ultrabooks. Both embrace the elements of consumer-oriented PCs.
The more traditional of the two machines is the Travelmate P645. Designed in the same way as a traditional notebook, the base model of the Travelmate P645 includes Intel's Core i5 processor, and a base 14-inch display with a resolution of 1366 x 768 pixels.
The innovation here is on the fully loaded optional docking station that allows users to expand the notebook's connections to four USB 3.0 ports, an Ethernet port, a VGA port and HDMI out. Users can even add a display with a 1920 x 1080 resolution display and AMD Radeon HD 8750M graphics card with 2GB of dedicated RAM if they need a notebook with even more power. Acer says that the device will sell for $949 when it debuts in the United States earlier this month.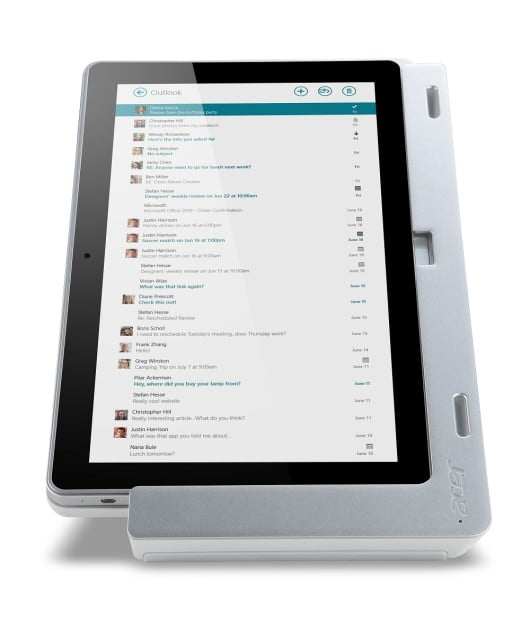 On the other hand, it's the 11.6-inch Travelmate X313 that will garner all the attention. Like Microsoft's Surface Pro 2 and Surface Pro, Acer has stuffed an Intel Core i5 processor into a the tablet. On the other hand this device sports a slightly larger 11.6-inch display into a tablet that it's billing as "solid and robust" thanks to its aluminum enclosure. Unfortunately, Intel's 3rd-generation Core i5 Processor is at the heart of the tablet, not the 4th generation processors that sport ridiculously long battery life.
Acer says that users can expect as much as six hours of battery life from the TravelMate X313 when it debuts later this month for $949. The machine also has a pretty interesting dock and keyboard as well. Unfortunately Intel didn't share any information about how much either of the three accessories for these machines will cost users.
Read: Surface 2 and Surface Pro 2 Available
Of course, neither of these tablets are as cheap as Microsoft's Surface 2, and both happen to be even more expensive than Microsoft's high-end Surface Pro 2 which costs $849. Still, it won't hurt to check out the device if users are looking for other option besides Microsoft's tablets.

As an Amazon Associate I earn from qualifying purchases.