Acer Joins the Multi-Touch Laptop Crowd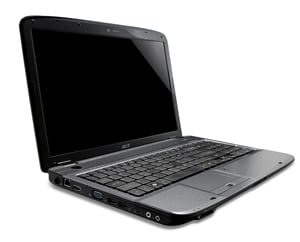 I admit I haven't been quite onboard with the current touchscreen laptop trend, but the more I think about different usage scenarios and positions, like actually using one on your lap with the screen low and angled, the more I'm starting to come around. Thus, I'm somewhat enthusiastic about Acer's new Aspire AS5738PG touchscreen notebook with multi-touch.
First, it offers a sizeable screen, 15.6″ at 1366×768 with LED backlight, which I can't find with tablets. Resolution is low for the size, but sufficient for HD movies. That's backed up with an Intel Core 2 Duo Processor T6600 at 2.2GHz and ATI Radeon HD 4570 Graphics with 512MB VRAM for smooth HD playback. A media machine with touchscreen control appeals to me.
Second, they don't skimp on the multi-touch, including it in the touchpad as well. Thus, if you don't want to "gorilla arm" it, you can still use the multi-touch gestures to zoom, scroll, rotate, and flick your way through whatever you're doing via the touchpad. Alternately, if you're showing off photos to someone, it's more instinctive and natural to point to the screen and control it from there. A unified user experience is good.
Third, Acer is including all the Touch Apps shown previously in the Gateway One (Gateway is owned by Acer), allowing touch access to media sharing, social networking, music, and memos. This is in addition to the games and goodies in the Microsoft Touch Pack. Seems like Acer is making a strong, concerted effort to be a leader with touchscreen applications. I'd still much prefer this in a convertible model, but overall, I think Acer is making a commendable effort at applying touchscreen control.
Full press release with specs at Business Wire and shout-out to Gizmodo.