Acer Readies 10 Aspire One Netbook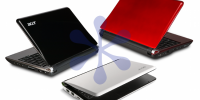 Acer is getting ready for round two in the great Netbook race. Having already captures a sizeable portion of the market with the Acer Aspire One netbook (or whatever we are going to call them) Acer is apparently readying a 10 inch version which reports are saying will sell for around $399. Aside from the screen size change there isn't much new to report on the specs.

This article may contain affiliate links. Click here for more details.