Acer Reveals Massive 27-inch 2560 x 1440 Android PC
Following the release of a similar product last year at CES, today Acer just announced an all-new 27-inch Android tablet PC that they hope will take over your desktop. Offering an HD monitor for regular PC users that doubles as a large Android tablet.
The new Acer TA272HU 27-inch device is what you'd consider an all-in-one PC that happens to run Android 4.2 Jelly Bean. When we say AIO we mean it, because it has all the internals you'd expect from a tablet, a built-in stand, and even on-board stereo speakers all mounted to a 27-inch 2560×1440 WQHD display.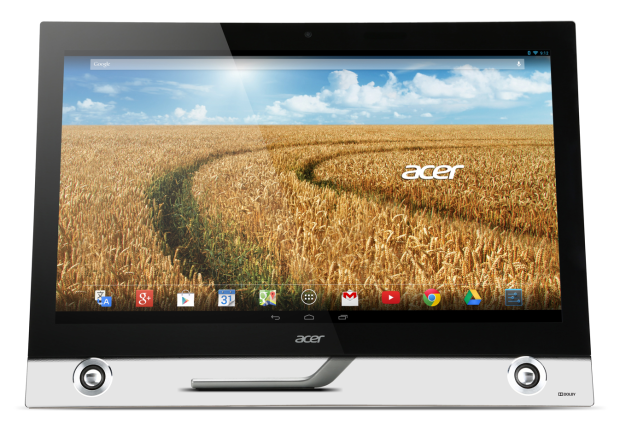 The full details include a 27-inch 2560×1440 WQHD display, Android 4.2 Jelly Bean with a few integrated Acer apps to use that large screen, and a quad-core NVIDIA Tegra processor, which we're assuming is the new Tegra 4 although Acer hasn't released the exact details. You'll get 2GB of RAM, 16GB of internal storage, micro-SD support, and of course the usual array of ports and connectivity.
With WiFi, USB 3.0, HDMI/DisplayPort out, 2 megapixel webcam, and dual Dolby Digital front speakers it has just about everything you'd want. Then Acer confirms the 10-point multitouch display works great with Android, and is of course certified for Windows 8 users if they want to use this as their HD display for a regular Windows PC, and then boot into Android should they choose.
The stand and base is transparent making the PC appear to be floating, and an edge-to-edge glass design offers a seamless and minimalistic look. It's a pretty nifty looking machine, and one which Acer claims is available starting today for the high price of $1099.

As an Amazon Associate I earn from qualifying purchases.