Acer Switch 10 Arrives to Crush the Chromebook and iPad During Back-To-School
At first many thought that users were simply opting to switch from low-end Windows machines to an iPad because of its price and software. Lately, though both iPad and Windows sales seem to be affected by the Chromebook, cheaply made laptops that feature a custom Google operating system. Apple still seems to be searching for something to jump start iPad sales but it looks like Microsoft may find its savior in Acer's Aspire Switch 10. A laptop and tablet hybrid that is kind of like Microsoft's own Surface 2 without the lofty price tag and lack of apps.
Announced in a press release this week, The Switch 10 aims to be exactly what teens, casual users and college kids going back to school need. Essentially, it's a tablet with a 10.1-inch IPS display and all the necessary USB ports and SD card readers embedded into it. This key here is that it also includes a detachable dock that turns the Switch 10 into a laptop that's just as portable as the Macbook Air or Dell's XPS 11.
What users will likely find most interesting is the price tag. The Switch 10 will cost just $380 for 64GB of storage when it debuts on American store shelves this coming June, making it the perfect device to bolster Microsoft low-end Windows 8 sales. By comparison, the iPad Air costs $499.99 with 16GB of storage.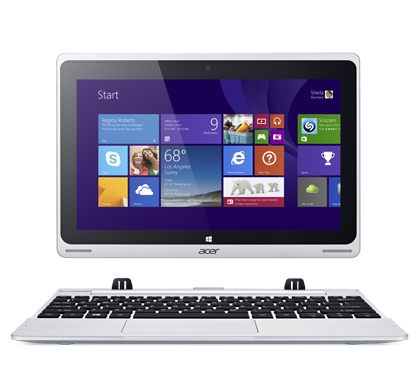 Build quality aside, the device seems perfectly made for the college market. Unlike the Surface 2, the Switch 10 includes Desktop app compatibility so that users can load up iTunes and whatever other programs they want. They'll still be able to download new touch-centric apps from the Windows Store, but they won't be beholden to them like the Surface. This is key, most Windows devices in this class either come with one of two huge trade-offs. Most Windows 8 devices at this price point have a 10-inch display but lack the ability to install Desktop apps or Desktop app capabilities but a screen too small to be considered primarily for productivity.
Users can pair the included keyboard dock and screen together to create two new form factors. A Tent mode that places the screen in a sort-of up-right way to interact with it and a presentation mode for watching movies and television shows.
To be clear, the Switch 10 will only come with an Intel Bay Trail processor. As such, editing video or working in Photoshop isn't going to be a pleasant experience on this device. However, users looking for a device at this price point likely won't have either of those concerns to begin with. Really, the limiting factor is going to be the 2GB of RAM that is included in the device. That's enough for most apps put having more RAM would allow the Switch 10 to run more power-hungry apps efficiently at the same time.
All told, the Acer Switch 10 has all the necessary ingredients for a popular Windows alternative to the Chromebook and iPad. It's set to debut at key time for device shoppers. Back to School season is one of if not the biggest drivers of technology purchases each year and college students have special needs that must be addressed. Luckily, addressing those issues usually means machines better for everyone. For example, college students need app compatibility so that their machine can handle anything that's thrown at it. They also need decent battery life and smaller form factors so that their owners can stay mobile as long as possible. If possible, the device needs to be great at allowing students to enjoy their videos, television shows and music too.
If that sounds familiar it's because those are the same priorities that potential competitors to Apple's iPad need in order to be successful. If Microsoft ever hopes that its Windows ecosystem will get attention from modern tablet and 2-in1 users it'll need a machine like the Acer Switch 10.
About the only thing that could derail this is the software included on the Switch 10. Microsoft's Windows Phone operating system prevents device makers from including utilities that override the core experience. The same isn't true for Windows tablets and convertibles. Sometimes buyers get very useful applications because of this. More often Windows device makers clog up new systems with virus programs and utilizes that provide the same functionality as Windows but perform worse. Acer has already confirmed that the Switch 10 will include some sort of cloud utility so that users can access data stored on hard drives and other devices that aren't with them.
Every Acer Switch 10 will include a free copy of Microsoft Office 2013 Home & Student, making it that much more of an obviously buy for most users. Buying Microsoft Office separately for the Mac or PC would cost users either $130 for the entire suite or at least $6.99 a month if they decided to subscribe to Office 365.
How many other utilizes Acer is planning for the Switch 10 remains unclear, but hopefully they won't harm the Windows 8 experience in any way.

As an Amazon Associate I earn from qualifying purchases.