actracTable To Compete with Microsoft Surface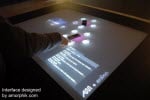 Obviously Microsoft isn't the only one working on Surface Computing. The actracTable looks very similiar to Microsoft's Surface Table and I believe uses a similar approach with optical technology. AtracSys, the company behind this calls it an interactive presenting surface. ActracSys offers a custom built solution for how you'd like to work the atracTable into your situation and pricing depends on your application of the technolgy. There is an SDK called beMerlin available as well.

Via SlashGear

As an Amazon Associate I earn from qualifying purchases.