How to Add Email Accounts to Mail in Windows 8.1
Microsoft has included desktop email clients in its Windows operating system for years. Early clients like Outlook Express offered an experience that felt more like a less sophisticated experience than what was available to users in Microsoft's expensive Outlook application. However, future versions, like Windows Live Mail, gave users a free and useful way of syncing email accounts to their PCs. By syncing emails locally, users are able to read and respond to emails even when they aren't near an internet connection.
Users upgrading to Windows 8.1 don't have access to Windows Mail natively. Instead Microsoft's latest operating system comes with a new Windows Store application called Mail. Here's how to add email accounts to Mail in Windows 8.1.
Go to the Start Screen.
Open the Mail app by tapping or clicking on it. It's represented by the blue live tile with a white envelope on it. You can also open the mail application by clicking or tapping the arrow at the bottom of your screen then tapping Mail or clicking mail from the list of applications that are installed on your Windows 8.1 device.
If you created or used a Microsoft Account when setting up your device initially, that account will have already been added to the Mail app. To add another, swipe from left to right on your touch display or move your mouse cursor to the top-right corner of your display to open the Charms Bar. Click or tap Settings.
Click or tap Accounts from the menu.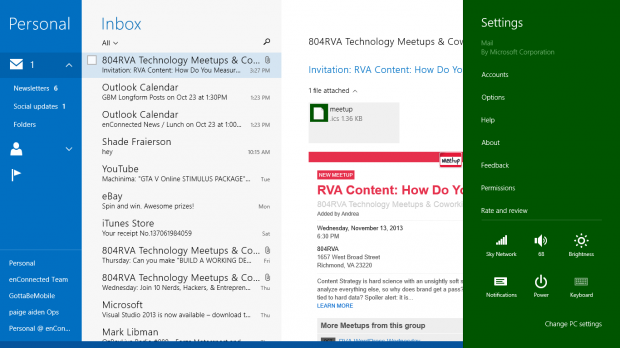 Click or tap Add an Account.
Tap or click on the name of the type of account you'd like to create. The Mail app supports adding accounts for Outlook.com, an Exchange sever, AOL, Gmail and Yahoo. If your account isn't one of those you'll need to know a lot more about how your email service is set up. If you don't know what your service's mail settings are, it's a good idea to consult with your email service provider about your account settings before trying to add the account using the Other option.
Add your account information then click or tap Connect.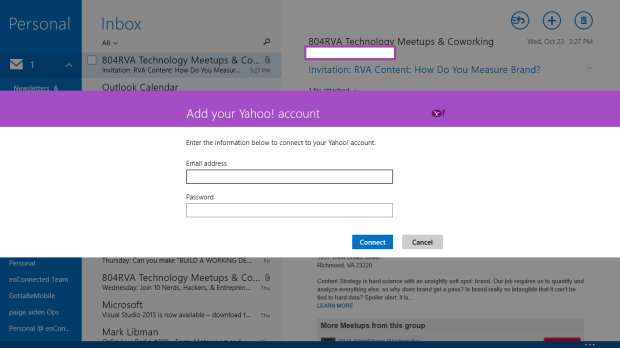 You've just added your online email account to Mail on Windows 8.1. Since Mail automatically checks for new emails, you don't have to keep the app open to be notified of new emails, they'll simply surface on the Mail live tile as they arrive.

As an Amazon Associate I earn from qualifying purchases.