AdDuplex: Windows Phone 8 Installs Overtake Windows Phone 7
Recent usage numbers indicate that Microsoft's Windows Phone 8 now has more of usage share of the Windows Phone ecosystem than that of its predecessor, Windows Phone 7.
According to AdDuplex, a firm that offers advertising services directly to developers to monetize their applications, Windows Phone 8 is now running on 53% of all Windows Phones, with Windows Phone 7 controlling the other 47%. Based on the company's previously released numbers that's a gain of 5% in a month.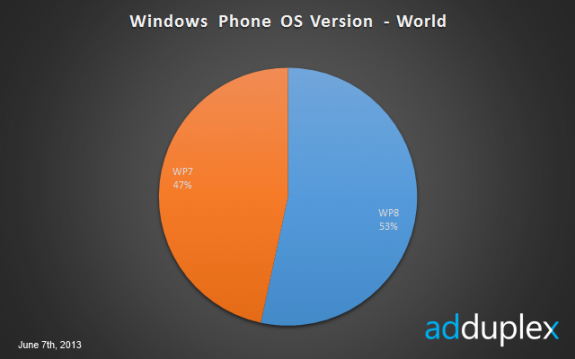 That's no doubt good news for Microsoft, who in addition to battling to attract new users from iPhone and Android, also has to ensure that its own development house in order. In stark contrast to the transitions in between operating system updates from its rivals, applications created for Windows Phone 8 do not work in Windows Phone 7, meaning that developers must either maintain two applications for both user bases or likely abandon Windows Phone 7 development altogether.
The result is an experience that isn't great for early adopters and users who likely purchased their Windows Phone 7 devices at low price points, or just before the launch of Windows Phone 8. In addition to application limitations, Windows Phone 7 devices will not be upgraded to Windows Phone 8. Instead those users will have to remain on Windows Phone 7, using only a fraction of the entire ecosystem's applications, or upgrade to a new device.
It also doesn't help that the user interfaces of Windows Phone 7 and Windows Phone 8 are identical following the latter's update to Windows Phone 7.8. Because the two are virtually indistinguishable from each other, its possible users could not even know that the device they are purchasing, or purchased just last year, has effectively reached end-of-life status.
AdDuplex's network also captured the model numbers for a few device yet to be officially announced, including the NOKIA RM-55_apac_prc, a device only tracked in China. This phone sports a WXVGA quality display and the NOKIA LC4301. It's believed to be a test device that's only been used in the United States, and is running builds of what's believed to be Windows Phone Blue.
Read: Windows Phone 8.1 in Testing?
Other unidentified devices include the Huawei W2-T01 that's already been leaked, the Samsung SGH-i817, a yet to be identified device with a 720P display, the NOKIA P5238 (possibly another test device), and the HTC HTCPO0881 Sprint (which surfaced in both Taiwan and the United States). The HTC is likely one of the devices headed to Sprint.

As an Amazon Associate I earn from qualifying purchases.