Adobe Creative Cloud iPad Apps Review
Adobe now offers a slew of apps that connect iPad users with the company's Creative Cloud subscription service. Can serious creative professionals and hobbyists get enough functionality from the Adobe Creative Cloud iPad apps to make it useful? Do the Adobe Creative Cloud iPad apps included in the stable of Adobe iPad apps add enough functionality to a Creative Cloud subscription? We'll take a brief look at each Adobe iPad app to help potential users find out.
First, what is Adobe Creative Cloud? Adobe used to sell their creative professional software by the program and the programs only worked on a Windows or Mac computer. A couple of years ago, Adobe transitioned from a buy-once always-own model of selling programs, to a subscription service. Customers pay a monthly or annual subscription fee and can use either a limited number of apps or the full suite, depending on which plan they buy.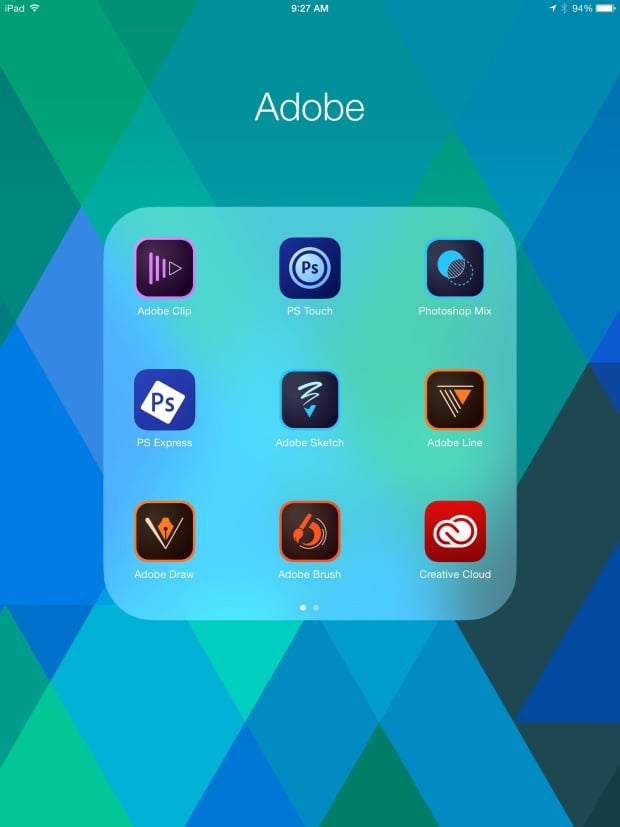 Subscriptions With the Adobe Creative Cloud iPad Apps
The Adobe Creative Cloud plans offers something for everyone who wants to use Adobe's creative software. Here's the list of optional subscriptions available, their costs per month and programs included.
All of these plans include access to the Adobe Creative Cloud iPad apps highlighted below. See the full list of Adobe mobile apps at the Adobe site. We'll focus on the creative apps.
Adobe Photoshop Mix
Photoshop Mix combines two photos, thus mixing them together. Select two photos and then use the app's powerful selection features to grab part of one photo and combine  it with the other. Maybe a photographer took a group shot on their iPhone, but one of the group members blinked in the first shot and smiled perfectly in the second. However, in the second shot some goofball photo-bombed the group with an obscene gesture. Photoshop Mix grabs the blinking person who looked great in the second shot and puts him in the first shot.
The resulting shots don't look as good as a real shot would, but they're decent. Pictures without clear borders between the part of the image the user selects will not look as good. However, Mix works reasonably well. With some care and planning, users can combine shots far easier with Mix than manual tools.
Adobe Photoshop Sketch
Sketch offers a powerful drawing app with multiple brush styles and colors. This will require some drawing skill to use, but one could also use Sketch to do non-artistic things, like mind-mapping or sketching the look of a poster layout.
Sketch does a great job of creating an iPad drawing environment and users make beautiful drawings. The app works with Adobe's Adobe Ink & Slide ($199.99) stylus.
Adobe Lightroom mobile
Adobe Lightroom mobile helps photographers do some field triage of their photos. It's a great mobile version of the awesome photo organizing and editing tool most pros and enthusiasts use to work with their photos.
Lightroom on the iPad will sync with the desktop version, making it easy for users to take shots, import them into the iPad on the go, tag and organize them, and then use those images on the computer back at the studio or home.
This app alone makes the life of a mobile photographer much easier.
Adobe Illustrator Draw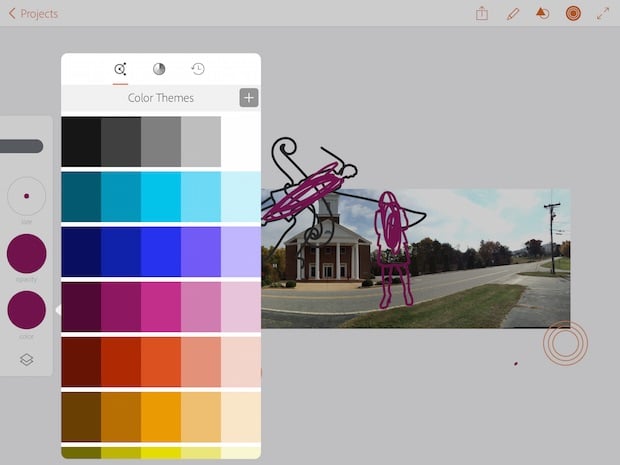 Illustrator on the iPad makes drawing free-form vector-based drawings with a stylus or the Adobe pen even easier. Adobe Illustrator Draw feels more like a sketch pad than using a computer drawing tablet. Once the user gets the hang of Draw she can create professional-looking drawings, sketches or layouts with an iPad.
The app lets users import their photos and mark them up, or use them as a foundation for some nice drawings.
Adobe Illustrator Line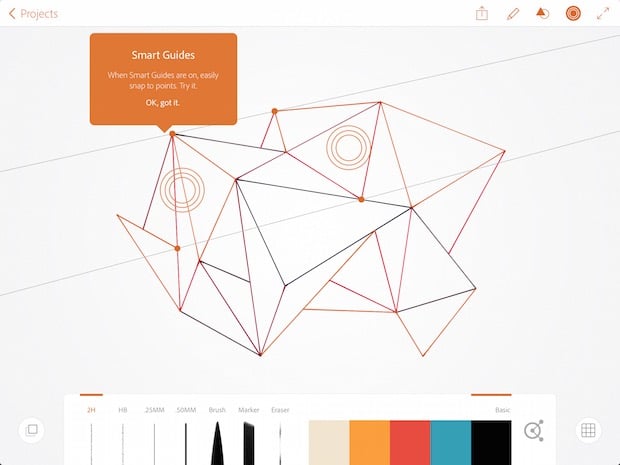 Adobe Illustrator Line lets the artist create and draw perfect lines, geometric shapes and create perspective drawings or shapes by drawing vector based shapes on an iPad. You can then send them to Illustrator and Photoshop via Creative Cloud sync integration. In the hands of a gifted artist, it's easy to learn and use.
Think of Illustrator Draw on the iPad as an art app and Illustrator Line as more of a design tool. Use Draw to make freeform drawings and Line for geometric images.
Adobe Premiere Clip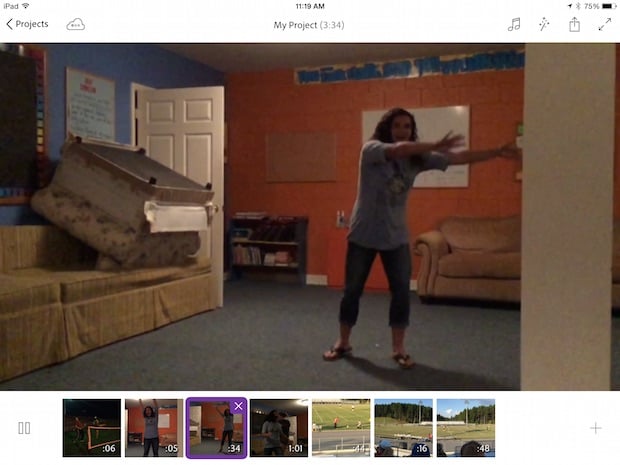 As its name suggests, Adobe Premiere Clip brings the video editing power of Adobe Premiere on the computer to the iPad.
Insert media taken with the iPad, an iPhone, or imported using the Apple USB or SD Card adapters. Then add some music, edit the clips and give it a special look using the built-in filters. You can share the video using Adobe's cloud sharing tool or send it to a desktop or laptop computer and edit it Adobe Premiere Pro.
Of all the iPad apps, this one's my favorite. I shoot a lot of videos with my iPhone and I love editing on the iPad using my fingers to interact with the media instead of a mouse.
Wait to sync all the media in the project before exporting the project to the computer. Syncing doesn't take as long in the other apps, but in Premiere Clip it takes a lot longer since videos are larger than photos or drawings. Tap the cloud icon in the upper left corner to view the progress before trying to share it and it will work smoothly. Also, the app did crash once during my project, but I didn't lose anything.
Adobe Voice
The video below shows what Adobe Voice can do and explains a little about how it works.
The above sample took only about 5-10 minutes to create. It's not a great example, but shows how simple and easy Adobe makes creating such a slide show video with Adobe Voice.
Adobe Voice offers a unique way to share a story or idea. The app records the user's voice, or other audio, and then the adds visual elements to coincide with the content. Finally, you can add some music and share it online.
The creating and editing stories makes it easy to prepare an interesting portable slide show video. Add photos, icons or text. Record your ideas using the audio recording feature. If the speaker makes a mistake, they can hold the mic icon down again to start over.
When finished with the project, share the it via social media, email or Adobe's online sharing tools.
Adobe Voice will offer teachers, business users or consumers a simple way to create interesting slide show videos with their own narration. I plan to use it to create interesting videos for sharing concepts in my teaching at my church.
Here's a sample I created explaining how to use Adobe Voice.
 Adobe Brush
Adobe Brush turns the iPad in a tool creation device, as well as a drawing pad. Use Adobe Brush to make custom brushes and then add those brushes to Adobe's other creative tools for making incredible drawings.
Create a brush and then export it to other Adobe tools, like the Sketch iPad app, Photoshop or Illustrator on the computer. Users can create brushes by drawing them or importing photos. For example, in the example below I chose a picture of my boys playing basketball and then turned it into a brush. I used the brush in Adobe Sketch on the iPad (image below) and on my computer in Photoshop (the second image below), thanks to the Creative Cloud sync available with these apps and the suite.
Here's the screenshot of Photoshop running on my computer with the same brush. Notice the brushes show up in the Library palette to the right. If the palette's not open, open it from the Window menu in Photoshop or Illustrator on the computer.
Use this feature to create a cool watermark stamp for photos or design work. The video below shows how to do it.
Adobe Shape CC
You can use an iPhone or iPad to capture an image and Adobe Shape can turn that image into a vector drawing for us in Adobe's creative programs like Illustrator, Photoshop, and Illustrator Draw on the iPad.
Take a photo or import one from the iPad or iPhone's camera roll. Adobe Shape will draw the edges of the image. Refine it by using a finger to draw over the parts of the image that Shape shouldn't include in the drawing. A plus/minus switch lets the user either add or remove content.
Tap the check mark to see the result. Give it a name and the app will save it to the library for later use in Photoshop, Illustrator or Illustrator Draw on the iPad.
Make sure to take a photo of something with a lot of contrast. The app does a better job if there aren't a lot of distracting elements in the background.
Adobe Photoshop Express
Adobe Photoshop Express is the original mobile version of Photoshop for the iPad. Use it to edit photos on the iPad. You don't need a Creative Cloud subscription to use it.
Use it to correct exposure, crop, photos, add filters, fix red-eye or blemishes and then share it online.
Other Adobe Creative Cloud iPad Apps
This only makes up half of Adobe's iPad apps that users can download and use as part of a Creative Cloud subscription. Here's a list of the other apps and what they do. Click the links to learn more.
Conclusion
The Adobe Creative Cloud iPad apps add some awesome tools to the Creative Cloud subscription. Since Adobe adds them for free, there's no reason for subscribers to not install the Adobe Creative Cloud iPad apps.
Artists, who don't mind using an iPad to create, will love some of the apps. So will photographers who like to quickly see their images and organize them, as well as do simple edits and then share them. And getting a head start on a video project with Premiere Clip will save some time for video editors.
These Adobe Creative Cloud iPad apps add plenty of value to the Creative Cloud subscriptions and users should take the time to get familiar with the apps.

As an Amazon Associate I earn from qualifying purchases.