Adobe Lightroom Will Bring RAW Photo Editing To iPad
Adobe may soon bring a version of its popular photo editing app Lightroom to the iPad, giving photographers another way to work with the tablet.
CNet reports that Adobe group product manager for Lightroom Tom Hogarty recently showed off a prototype of the app on the web show The Grid. Hogarty wouldn't commit to when Adobe will ship Lightroom for iPad, or any final features, but he still showed a prototype version runnning on an iPad 2 with many of of Lightroom's features from the desktop app.
The Lightroom for iPad prototype Hogarty showed let users edit RAW photos despite their massive size. It didn't have every feature available in the desktop version of Lightroom, but it did include many editing controls.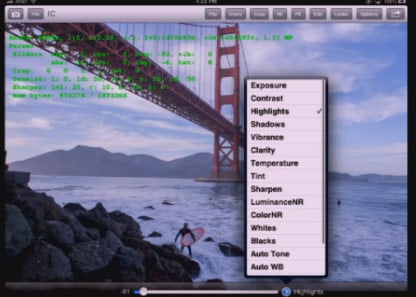 The prototype app lets users edit exposure, contrast, highlights, shadows, vibrance, clarity, temperature, tint, sharpen, luminance noise reduction, color noise reduction, whites, blacks, auto tone and auto white balance. There are also options for flipping and cropping photos shown.
There's a possibility that Adobe will cut some features for the final app. Several of the features cause the iPad 2 to slow down, dropping frames as the user tried to edit the photo. Perhaps those features would work better on a Retina Display iPad, however.
When Lightroom comes to the iPad it will have some sort of cloud storage feature that will link to LIghtroom on the desktop. Adobe currently offers a cloud service through its $50 per month Creative Cloud service. Hogarty said Adobe may offer other options, however, depending on what sort of services photographers want.
There are already a few apps on the iPad that give users powerful tools for editing photos, such as iPhoto, but they don't sync with Lightroom. Apps like Photosmith that do sync to Lightroom don't offer photo editing. Adobe's app could be a killer app for photographers who use Lightroom on the Mac or PC, assuming Adobe figures out a way to get as many features as possible into the app.
There's an argument that Lightroom wouldn't work well on the iPad because of its lack of an SD card slot. Photographers that spend hundreds or thousands of dollars on cameras likely wouldn't mind spending $29 for a Lightning to SD Card Camera Reader from Apple.

As an Amazon Associate I earn from qualifying purchases.