Adobe Shows Off Mighty Pen Bluetooth LE Stylus Prototype
During its MAX conference Adobe showed off two new prototype devices for tablet artists: the Mighty Pen stylus and Napoleon ruler.
According to TechCrunch both the Mighty Pen and Napoleon are prototype devices that are currently in the R&D phase of development, but they will eventually come to market, presumably under new names. The tools make it easier for artists to work on tablets like the iPad.
The Mighty Pen is a pressure-sensitive stylus that uses Bluetooth Low Energy to connect to the tablet. The device stores all of its preferences and settings in the cloud, so if users tweak something while working on one device the stylus will have the same tweak when they switch to a different tablet.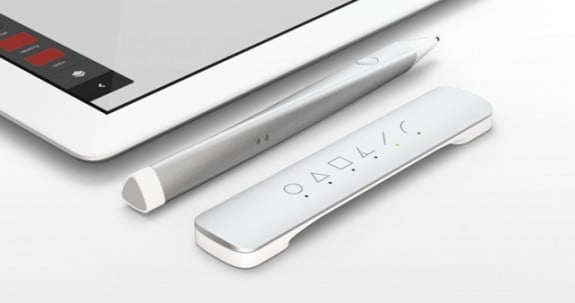 The Mighty Pen, of course, also features integration with Adobe apps. The stylus will store brush settings and even art assets in a cloud clipboard. Users can access the cloud clipboard on any device to just paste the assets into their current project.
Adobe's Mighty Pen also has some "non-stylus touch" features as well. For example, when the user is drawing with the stylus they can use their finger as an eraser instead of selecting the eraser tool for the stylus.
The Adobe Napoleon is a bit more unique than the Mighty Pen. The Napoleon is a digital ruler and guide that also connects to devices vie Bluetooth LE. The Napoleon is like a modern version of a drafting tool that's design for digital artists. It makes it easier to draw straight lines and arcs with its snap tools.
Adobe has plans to release both the Mighty Pen and Napoleon eventually, though it doesn't have estimated release dates for either. Both are likely a long ways off, but they'll be here eventually. Perhaps by that point tablets will have enough power to handle more of the features in Adobe's new Creative Cloud.