Adonit Jot Touch Bluetooth 4.0 Pressure Sensitive iPad Stylus Hands On
The Adonit Jot Touch pressure sensitive iPad stylus makes writing and drawing on an iPad a better experience than using a regular capacitive touch stylus that normally costs $10-$20. The precision tip of the stylus makes it more accurate. Thanks to the new features it will also works even better when it finally ships.
We got a look at the Adonit Jot Touch at CES 2013 this year and named it as one of our Best of CES 2013 products.
The Adonit Jot Touch Bluetooth 4.0 Pressure Sensitive iPad Stylus will work like most capacitive touchscreen styli. However, it uses a different kind of tip. A clear disc connected to the tip lets the user see what they're writing with far more precision. The disc rests flat against the screen but the pen angles so a user can hold it comfortably as they ink.
What's New with the Adonti Jot Touch
Adonit showed off a new version at CES 2013 that adds some significant upgrades. Now, the stylus includes two thousand levels of pressure sensitivity. This benefits artists and writers alike. Artists can press on the iPad screen and the level of pressure translates into thicker or lighter strokes. Creating beautiful drawings become easier with pressure sensitivity.
Also, Adonit added Palm rejection. Thanks to the multi-touch screen on the iPad, a user will write or draw with a stylus. If she rests her palm on the screen, it registers as a touch and draws there at the same time causing ugly spots and lines. This frustrates people used to writing on paper or old active digitizers that didn't suffer this weakness. With Palm rejection the apps that work with the Adonit Jot Touch will sense that the user's palm is resting on the screen and it won't register as a touch ignoring the palm. Heavy inkers will love this new feature.
Adonit added the new Bluetooth 4.0 standard giving the stylus a more reliable connection and better battery life.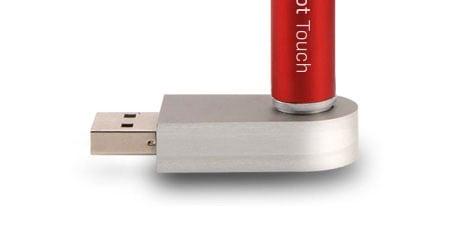 Speaking of battery life, the Adonit Jot Touch will recharge using an included USB charger as always. It still gives the user two buttons to enable app features while holding the pen. The user won't need to lift the stylus to tap with a hand or the tip to use features mapped to the buttons.
Why Pay More for the Adonit Jot Stylus
Why would a buyer fork over the $89.99 for the Adonit Jot Stylus instead of getting a cheap $10 stylus at WalMart or buying a really nice $30 stylus like the Bamboo Stylus?
Other styli don't offer palm rejection unless a user's app includes the feature. Also, cheaper styli don't give the user pressure sensitivity. Drawing and writing with a stylus that registers pressure sensitivity makes a huge difference. It's like drawing with a fat pre-school crayon versus a great Cross pen. Finally, writers and artists can see what they're inking thanks to the clear see-through disc at the tip.
The Adonit Jot Touch will sell for $89.99. Buyers can pre-order now either gun-metal or red. Buyers can also add a pair of replacement discs, which do wear out after a lot of use, for $6.00.

As an Amazon Associate I earn from qualifying purchases.