AdvenChewers for iPhone Review: Not Fresh, But Still Fun
Although it doesn't get much credit for it, Warner Brothers Interactive seems to have fully embraced mobile gaming. To date it has released iPhone versions of Injustice: Gods Among Us, Batman: Arkham Origins and even Lego: Batman DC Super Heroes. Those titles have each done pretty well, however the publisher has yet to  come up with a runaway hit that isn't based off a franchise that didn't start in mobile.
That doesn't mean the company isn't trying. AdvenChewers is the publishers latest attempt at a light-hearted mobile-focused gaming experience and it comes complete with everything users might expect including fun artwork and more than a few birds.
Artwork & Content
I noticed the artwork in AdvenChewers the moment I opened the app. Sure, it's no rival for a casual console game and it's not exactly miles ahead of what some other high-end iOS games include, but that doesn't mean the game isn't entitled to kudos for looking absolutely gorgeous on the iPhone 5s screen.
Essentially AdvenChewers is a platformer game that replaces the jump mechanic that similar titles use with one powered by bubblegum. Throughout each level users are charged with using bubblegum to jump to new heights and save the bright yellow birds that are scattered throughout the game. Users don't have to only go after these birds. They only act as a boost to the score users accumulate by collecting coins in the game.
The entire game isn't just passive either. Users can attack evil-doers with electrically charged bubble gum, windy bubble gum and soap-bubble gum. Each have their own indepedent effect on gameplay.
GamePlay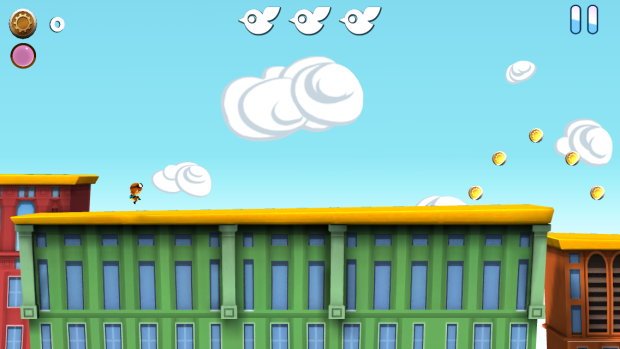 All told, the game performed pretty well on my iPhone 5s and I quickly found myself getting lost in it before I realized I what was going on. It's not that AdvenChewers introduces some new gameplay element that mobile gamers haven't seen yet. In fact it borrows features from nearly every popular iOS game I can think of including Jetpack Joyride, Angry Birds and a few others. What's important here is that it blends these borrowed techniques into a cohesive game that kept me occupied and wondering what I would face next.
That's not to say that there weren't some things that bothered me a bit. Having paid $.99 cents for the game already, I don't think users will appreciate being asked to visit the game's store to purchase jackets and other cosmetic add-ons. I also don't think users will appreciate that purchasing a bird compass from the game's store makes it a bit too easy to find each missing bird's location. I understand that games have to make money somehow, but as AdvenChewers isn't free today users are being hit up for cash twice almost instantly. You can even buy more of the coins your character is supposed to earn in game.
Also, I'm not too fond of games that prompt me to connect my Facebook account to share information. It's not that I don't find how my friends performed in games to be interesting. It's that I'm not willing to risk any of them being annoyed by Facebook app messages in their timeline. That's why having GameCenter integration into AdvenChewers is useful.
Overall, AdvenChewers isn't some new fresh idea of what a platformer is. Instead,  it's a ton of little small borrowed features and gameplay ideas that builds into a mountain of interesting play time.
iOS 6 and iOS 7 users can download the game from the iTunes App Store now for $.99.