AgileSports Teams with Toshiba for Sports on a Tablet PC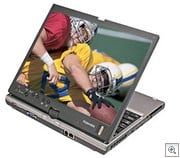 Sports fans, sports teams, and Tablet PC folk will be interested in this. AgileSports has teamed up with Toshiba, using Toshiba's M400 and R400 Tablet PCs. Three students developed a system called Huddle to help their university team (Nebraska) get the edge on the field. Their plan is based on the fact that most teams are on an equal footing when it comes to physical conditioning and training, and that mental training and preparation are the next frontier where teams can develop an edge.
The Huddle system uses Tablet PCs to:
Draw on top of video using digital ink

Diagram plays

Communicate effectively

Track performance goals
There's more info on Toshiba's site about this and here's the link to AgileSportsTech.com, which looks like the site is still under development.
Now, here's a thought. If we started seeing athletes and coaches using Tablet PCs on the sidelines and in the ubiquitous sports programming features that show them reviewing video, I'd bet that would help bump up the exposure a bit.

This article may contain affiliate links. Click here for more details.