Agloves for Those Chilly Touchscreen Blues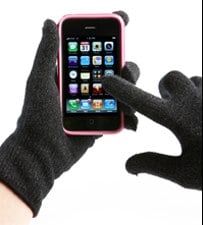 If you live in colder climes and like to use your touchscreen devices out of doors, you know the problem. Gloves on, cold hands, gloves on, not good for using a capacitive touchscreen.
Well, it looks like the folks at AGloves might have a solution. I say might because I obviously haven't tried these out. By knitting some sliver yarn throughout the glove, they claim to have created a glove that not only keeps your hands warm, but will allow you to swipe and pinch and touch with ease using all ten fingers.
Priced at what sounds like a reasonable $17.99, I'm adding a pair to my Christmas Wish List for those cold winter trips back to Chicago.

As an Amazon Associate I earn from qualifying purchases.