Ahead of WWDC, iPhone 6 Rumors Abound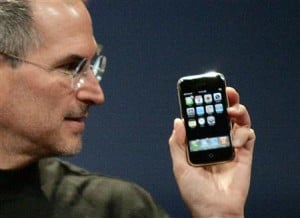 Ahead of Apple's annual congregation of developers at WWDC 2011 in San Francisco, California, a destination where the company is expected to showcase the latest features of iOS 5 and Mac OS X Lion, rumors of the next-generation iPhone hardware are picking up momentum.
The next iPhone to succeed the current generation iPhone 4, whether it will be called the iPhone 4S as some have reported or the iPhone 5 as others believe, will sport the same form factor as the current generation flagship smartphone. This means that there won't be a 4-inch edge-to-edge screen, and more importantly that Apple is sticking to its 3.5-inch display and not going with the trend that Android is pushing with larger screens, pushing on 4.5-inch as the Samsung Infuse 4G on AT&T is doing.
What's interesting is that the latest rumor states that Apple will go with a SIM-less design–no replaceable or user-serviceable parts as even the GSM model won't have a SIM card. This, of course, goes against what we had previously reported; Orange CEO says that the carriers have so far dissuaded Apple from going with a SIM-less phone model due to security concerns.
The phone will utilize several bands and a singular model will support CDMA and GSM models. This means that one iPhone can potentially work on either Verizon or AT&T if it's sold unlocked. Thus far, no iPhone model has been sold in the U.S. unlocked. To enable a world-phone iPhone, Apple would be utilizing a Qualcomm radio. It's unclear if Apple would utilize a single-core or dual-core CPU with an applications processor based on the ARM Cortex A9 reference design.
What's curious is that the report mentions that this latest iPhone model comes with three or four internal antennas to support the world-phone capabilities. In the release of the iPhone 4, Apple CEO Steve Jobs highlighted that the company had moved the antenna externally and that the antenna was embedded into the stainless steel bands going around the sides of the phone. Not only do the band add structural support, but they also serve to improve reception, according to the Apple CEO.
The iPhone model is expected to be announced in late July or early August, which is ahead of the September announcement that was previously rumored alongside Apple's fall music event.
Interestingly, an iPhone 6 mention was also included, which suggests that Apple could unveil that smartphone in early Spring 2012, creating uneven refresh intervals between smartphone launches. That smartphone is expected to carry a display from Sharp, which is also responsible for the glasses-free qHD display on the HTC EVO 3D.
Historically, Apple launches smartphones based on a yearly refresh cycle with phones available for purchase in late June. With the iPhone 4S/5 model, Apple is stretching the life of the iPhone 4, perhaps to give the iPhone 4 CDMA model on Verizon a decent shelf life, by introducing the refresh later in the cycle towards late summer/early fall as speculations posit. If Apple unveils an iPhone 6 in early Spring, it would then contract the lifespan of the iPhone 4S/5 model by introducing a refresh about six months out.
In addition to the radio change of the iPhone 4S/5 model, Apple may also improve camera support on the flagship iOS smartphone by introducing an 8-megapixel camera. It's unclear if Apple would be moving video capture to support 1080p capture or if it will still maintain 720p HD video recording support with the new camera.
The latest speculations come by way of Japanese blog Macotakara, which had accurately predicted the iPad 2's features and launch date ahead of Apple's unveiling of the tablet.
Via: AppleInsider

As an Amazon Associate I earn from qualifying purchases.