Air Display Update Brings Retina Resolution Display For Mac and PC
Air Display is a great app that lets you turn your iPad into a second display for your Mac or PC, and it is about to get even better with an update to support the incredibly high Retina Display resolution of the new iPad.
You can't enjoy a 10 inch 2048 x 1536 portable monitor just yet, but the developer, Avatron, has posted a sneak preview of what we can expect.
(Read: New iPad Review)
The new version still needs to pass an approval process, so you can't download it just yet.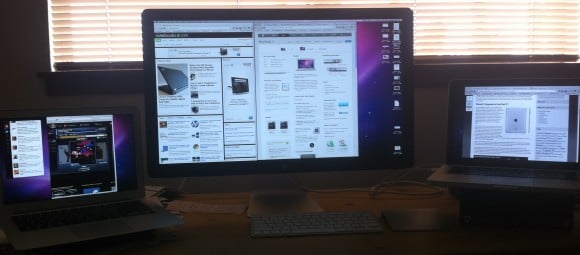 In addition to ramping up the resolution, Avatron has packed in an awesome surprise – HiDPI support. Haven't heard of HiDPI? No worries, it is a hidden feature that, "renders with double-resolution on a double-resolution screen."
Instead of using the display at the full Retina resolution, HiDPI uses a 1024 x 768 resolution, and doubles down for an incredibly better looking display. You can see a sample of this below.
Of course, just like the iPad apps, the App will need the artwork to support this higher resolution mode, but Apple is already working on that. Messages already has the artwork to look awesome on HiDPI.
That has me incredibly excited, because I use Air Display to hold my Messages window while I talk to the rest of the team at GottaBeMobile through the day.
(Read: Air Display for Mac Review)
If you can't find HiDPI in your display settings, that's because it is tucked away in System Preferences. Why? Because until now, there hasn't been a computer display that supports a high enough resolution available to the masses. With Air Display, Apple just shipped 3 million of those displays.
Air Display is $9.99 and works on Mac or Windows computers. It is an essential tool for travelers, cafe workers and anyone who needs a second display.