AirDroid 3 Brings Android Texts and Notifications to your PC
Three years ago the first release of AirDroid arrived, a 3rd party solution to control aspects of your Android smartphone from a PC or laptop. When Apple announced its slew of updates to iOS and the new continuity features earlier this year, many Android users were quite jealous, and searching for something similar.
The iOS and Mac Continuity features are rather impressive. Letting your iOS devices hand off notifications, calls, alerts and more right to a desktop computer. Essentially remote-controlling your iOS device from OS X. Today though, a new solution has arrived for Android users wanting something similar, if not better.
Today the company released its third release in three years, simply named AirDroid 3, after a short beta test that's been taking place for select few public users as of late. If you'd like to respond to WhatsApp messages from your computer, answer or dismiss calls and more, read on for more details.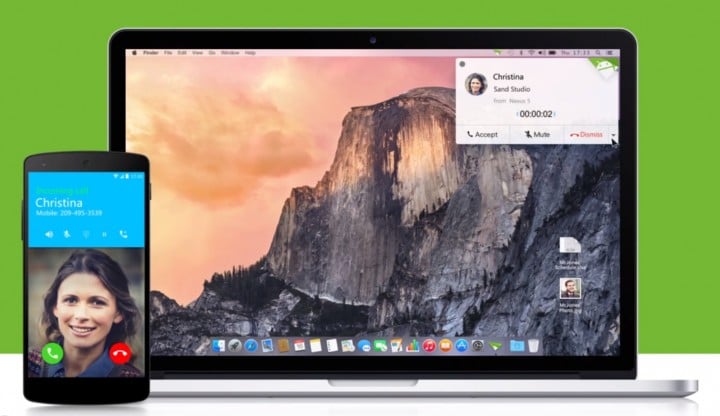 AirDroid is nothing new to many Android enthusiasts, but with the general public being more aware of the remote-controlling of smartphone features with continuity, many Android users have been searching for something similar. AirDroid had a lot to offer in the past, but required users to login to an AirDroid server through a web browser, then control their Android smartphones and tablets.
AirDroid 3 fixes all those problems and slight delays in service, and introduces a slew of new features that has many Android users extremely excited. Without trying to explain it all too much, check out the newly released video below showing off everything you can expect from AirDroid 3.
As you can see, AirDroid 3 lets you access your Android smartphone or tablet on Windows, Mac, or a web browser wirelessly, and completely free. It's one of the best services around, and just got a lot better.
The update is packed full of even more features on top of the already great service, things like AirMirror and notification mirroring, to name a few. Here's a more detailed list from the developers themselves.
AirMirror
AirMirror allows you to mirror the whole screen of your Android device to computer, and interact with all the apps installed using the computer's mouse and keyboard.
A great use case is WhatsApp. When you receive a WhatsApp message on your phone, the notification will be pushed to your computer in real time. Simply click on the mirror and respond to the message in seconds right from the computer.
Notification Mirror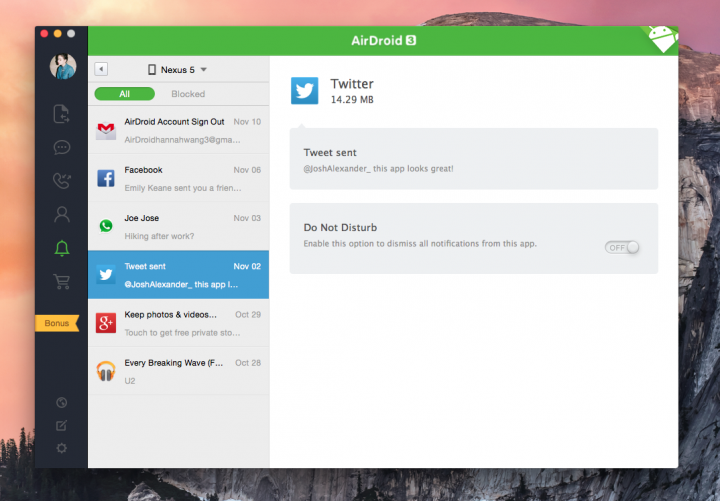 Get real-time alert of phone notifications from any apps. You can also silent those apps whose notifications you don't want to see on desktop.
SMS
Not only can you see your incoming and complete list of text messages right on your computer, but now you can reply to them too. Making this truly a continuity-like feature.
Call alerts
You can get real-time alerts of incoming calls, and either reject them directly or with a canned quick response by SMS, or accept the call and take it on the phone.
File transfer
Transfer files from computer to Android by a simple drag and drop, on local or remote connection. Transfer file folder from computer to Android. Files transferred by remote connection will be available for download for 7 days, and then will be permanently deleted from AirDroid server.
You can even transfer files from device to device, for those interested.
End to End Encryption (E2EE)
Then of course there's tons of privacy protection. In AirDroid 3, they took further steps by enabling end-to-end encryption for all SMS, app notifications, contact data, account credentials and other sensitive data transmitting between AirDroid clients. With E2EE, it's practically impossible for any 3rd party, including the governments, to view the content of your data.
This means AirDroid 3 is extremely secure, save, yet useful all at the same time.
There is one small hurdle for many of these features though, and that is that to enable all of them to fully work Android users will have to root their smartphone or tablet. This is similar to jailbreaking iOS devices, and is rather easy for most Android smartphones and tablets. Many features will work without root, but you'll need to check out the release notes linked to above for all the details.
AirDroid 3 is available now from the Play Store for free, and of course AirDroid offers a premium subscription that offers tons of additional features and functions like unlimited file transfer, remote camera, and more.