Airframe: $25 Dashboard Mount fits iPhone 5, Galaxy S3
Accessory maker Kenu is getting ready to ship Airframe, a $25 smartphone car and travel mount that's flexible enough to fit most smartphones, including the iPhone 5 and Galaxy S3. The Airframe mount is compact and stays in place by clipping onto any car's air vent.
The Airframe features a rotating clip that can mount on horizontal, vertical and angled air vents using a single set of grips. Kenu claims that the grips are soft enough to avoid damaging the air vents in any way. The grips can be rotated to make sure the phone sits level.
The Airframe has two expandable arms that stretch to fit smartphones with up to 4.8″ displays. This means it can fit any iPhone, BlackBerry or Samsung Galaxy phone, with the exception of the Galaxy Note series. The Airframe will accommodate most cases.
While it's never a good idea to actively use a smartphone while driving, mounts like the Airframe make it safer to use voice commands through services like Apple's Siri and Google Now. Keeping smartphones as GPS units up high on the dashboard is also much safer than holding them or keeping them low, like on the passenger seat or in a cup holder. The Airframe looks a lot more stable than suction-cup smartphone mounts and it doesn't block any part of the windshield.
The Airframe is cheaper and simpler than mounts from companies like Pro-clip Cheap, cheaper than ProClip, which builds mounts for specific devices and cars. The tradeoff for the lower price is that there's no cable management feature and there's only a single mount point.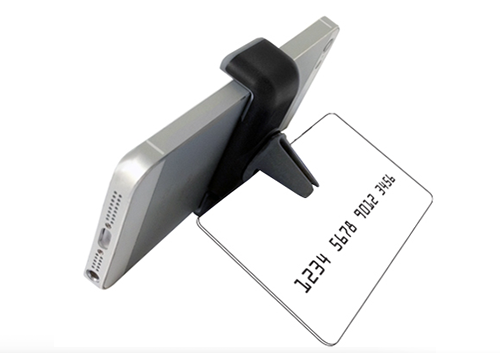 A credit card can be slid into the Airframe's vent grip to act as a kickstand when it's not in a car. This adds to its versatility and it shouldn't be too burdensome to tote around since the Airframe weights 0.8 oz.
The Kenu Airframe isn't available quite yet. Kenu is selling a limited run of 1,000 Airframes over at airframe.kenu.com as pre-orders. The $25 pre-order price includes a $5 discount and free shipping to the United States and Canada.  There are currently less than 500 pre-order Ariframes remaining. Kenu is promising delivery by late March.
Kenu sells other smartphone accessories, including the Highline, a bungee leash for the iPhone.