Apple AirPort Extreme Packs Speed and Simplicity Into Elegant Package
The Apple AirPort Extreme base station announced at the 2013 WWDC adds 802.11ac Wi-Fi and a new form factor that works with the refreshed MacBook Air, Apple's only computer using the new Wi-Fi standard. Apple, Windows and Android devices (including the Samsung Galaxy S4) can connect to it.
The new router looks great and simplifies home networking.
We compared the AirPort's speeds to our old router and the LinkSys EA6500 (which uses 802.11ac) and it bested them both in speed and simplicity.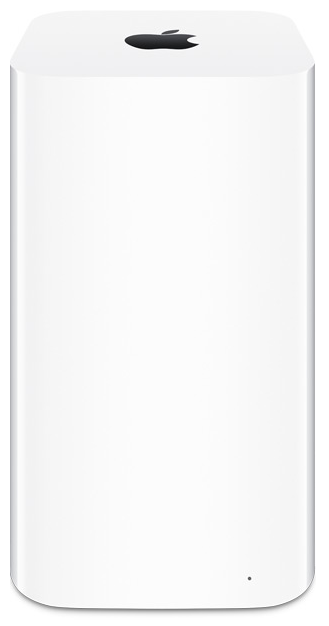 Apple AirPort Extreme Base Station's Easy Setup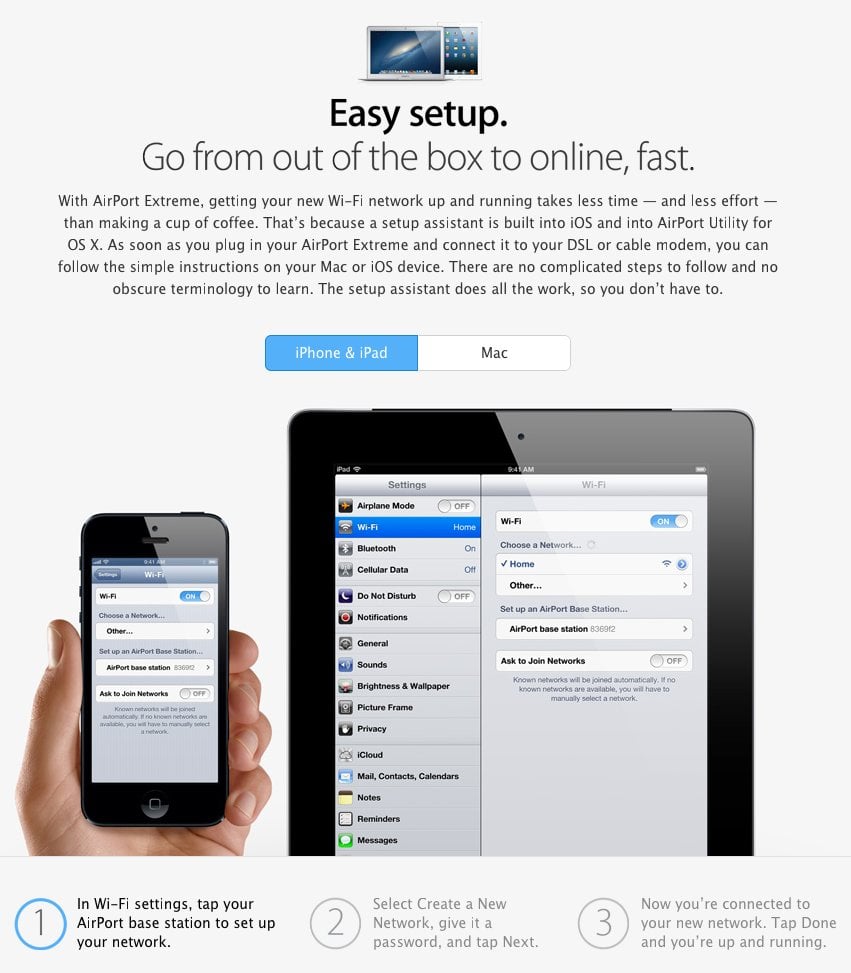 Installing the $200 AirPort Extreme took five minutes. Apple's setup and configuration on Mac or iOS (free in the app store) walks users through the process of setting the router up quickly. With some digging we set up a guest network too, but wish it was easier to find these settings.
Advanced users may not like the hand holding, but they can get under the hood and change settings if needed.
Speed of Apple AirPort Extreme, Netgear WNDR3400 and Linksys EA6500
As a baseline, here's the speed of our old Netgear WNDR3400 using SpeedTest.net. Wired speed tests resulted in 77.85Mbps up and 5.2 down. Wi-Fi ran 4Mbps slower.
The Linksys EA6500 ran between 48Mbps and 54Mbps.
The AirPort Extreme didn't do very well until a firmware flash. Then it settled down. It hit 93.87Mbps over Ethernet and 83.27Mbps using Wi-Fi.

We tested on an iPhone and Samsung Galaxy S4 in four spots around the house:
Same room as base station – upper left in image below

Next room – upper right
Same level through four angled walls, a challenge for most 802.11ac routers – lower left
Furthest spot in house on another level – lower right
The iPhone with the AirPort hit speeds double what it did on our old router.
The GS4 uses 802.11ac and worked best in the third and fourth spots.
With "beamforming" the router's Wi-Fi antennae aim the signal at the device accessing it. Since the router and the Galaxy S4 both use 802.11ac, we enjoyed faster speeds even far from the router.
Using the AirPort Extreme with USB Hard Drive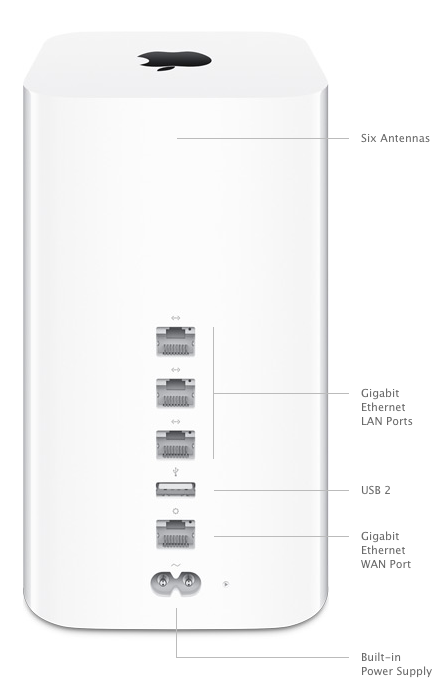 A hard drive formatted in FAT32 copied files excruciatingly slowly. When we reformatted the USB drive to Mac OSX Journaled format, speeds jumped to usable levels. We copied a 2.8GB folder in less than five minutes over Wi-Fi. It even performed well using a Windows 8 computer, too. The drive still runs slowly compared to other solutions, but it's not terrible.
Conclusion
Here's what we liked:
Great design aesthetics

Simple design and configuration
Internet speeds and network speeds were fast except when using the USB drive
Bean forming performed well with Galaxy S4
Using Mac formatted drive write speeds do well
Guest networking
Unfortunately, it had weaknesses.
Only 3 Ethernet ports

Expensive
Horrible performance with FAT32 drive and no USB 3
Light on advanced features
Those with a lot of Apple hardware will love the Apple AirPort Extreme base station. Everyone else should look seriously at the ASUS AC1750, which repeatedly gets high reviews for the same price and offers 7 Ethernet ports.