AirPort Utility for iOS 5 Lets You Manage AirPorts Right From Your iPhone, iPad
Patching a hole in their promise of "PC-free" functionality on iOS 5, Apple has released AirPort Utility, a new app that allows setup and management of AirPort Wi-Fi devices.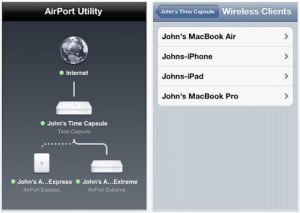 While most Wi-Fi routers rely on browser-based management, Apple Wi-Fi routers, such as the AirPort Extreme, AirPort Express, and Time Capsule, require the use of a desktop application, AirPort Utility, to change the device settings. It's more elegant than the usual web interfaces, but it makes them inaccessible to anything but a PC or Mac with the software installed. iOS devices were also left out, but today there's a new app to fix that problem.
AirPort Utility for iOS 5 offers a graphical overview of the Wi-Fi network of an AirPort device. The app is iPhone- and iPad-compatible with pinch-zoom functionality on iPad, which is especially useful if you use AirPort Express units to expand your network.
According to the product description, it "works with all Apple 802.11n Wi-Fi base stations, including AirPort Express, AirPort Extreme, and Time Capsule." This possibly leaves out older 802.11b/g units, though I don't see why. It also provides the full (or nearly so) range of features as the desktop application, including password management, port mapping, and firmware updating. The app may be downloaded directly from the App Store or by tapping "Manage This Network" in the Wi-Fi settings of your iOS device.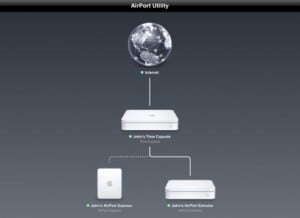 I use AirPort devices for my home Wi-Fi and have questioned how iOS 5 could be truly "PC-free" when setting up and managing a Wi-Fi network with their devices was PC-reliant. Guess that's been settled.

As an Amazon Associate I earn from qualifying purchases.