Akihabara News – Computex 06: ASUS UMPC R2 images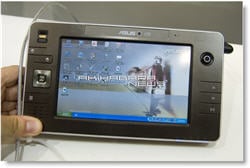 ASUS R2….., I am having serious techno-lust issues when I say that phrase.
I must have one of these! Hello Asustek????? Do you hear me? I am waiting most impatiently. I want to do an InkShow on this thing SO badly…….
Asustek is being most closed on real specs, release dates, and eval / prototype units. I'm sure that is a result of all the negative press out there so far on Origami. No matter how hard the OEM's try and control the spin on things, some reviewers and press are going to highlight negatives, even on reference models. Oh well, it is a negative world we live in, but it is keeping me from getting toys to play with and I don't like it!!
These are great images that Akihabara.com snagged from Computex. I especially like the little foldup keyboard option. I would imagine it is Bluetooth — anyone know for sure?
There are more images here on the Akihabara site.
(via Akihabara News – Computex 06: ASUS UMPC R2, )