Alaska Airlines Pilots Using iPads Instead of Paper Flight Manuals – Up Close with Pilot iPad Gear
Increasingly pilots are forgoing paper to use tablets, like Alaska Airlines pilots who will now use iPads instead of thick paper flight manuals. According to Geekwire Alaska Airlines is going with the Apple iPad to replace their 25 pound flight manuals in the cockpit. The airline has been wanting to do this for a while, starting the initiative last fall by providing their pilots with iPads and now with the iPad app GoodReader and a collection of PDFs to deliver all the data pilots need.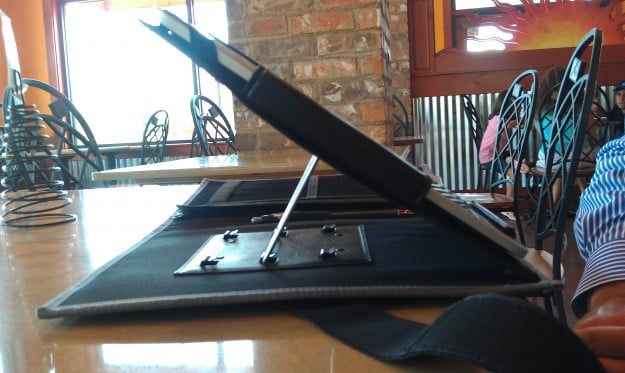 I recently met a pilot at a restaurant who was using his iPad to do some reading. The unique case he had grabbed my attention, so I asked him where he got it. He told me it came a site that targets pilots called Sporty's which has a whole section dedicated to "Flying with iPad, iPhone and Android."
My pilot acquaintance had the Kneeboard Case ($39.95, see above and below). It holds the iPad and can be easily stationed on a knee so that the pilot's hands are free for flying the plane. The case has a metal stand built into the case to hold the iPad up at 3 different angles or flat.
My new friend didn't use PDF files like Alaska Airlines will be doing. He had an app called FlightPlan HD, which he said most of his pilot friends are now using. The $9.99 app has tools for navigation, weather, and maps of airports. He showed me the page for our local airport (see below). It gives information about the current conditions, approach vectors and anything else one might need to fly into that airport. The app also helps with flight planning, fuel consumption and much more.
The pilot we spoke to wasn't flying airliners, taking the stick of a small four seater instead, but like the airline pilots, he loves the ease of use and comfort of the iPad. Instead of carrying or working with great big books or notebooks, a pilot now has a smaller device that is easy to use, can be updated without having to reprint all that paper; and it can play music or Angry Birds. I just hope the pilot on my next flight won't be too focused on keeping the zombies out of the house with his various plants to remember to land the plane. The good news is the device has to be stowed while the pilot takes off and lands the plane so there's no chance of app distraction.

As an Amazon Associate I earn from qualifying purchases.