Alcatel OneTouch Fierce XL Windows 10 Phone Confirmed
Microsoft has always acknowledged that getting other companies to make devices running its Windows Phone operating system would be a big part of the its strategy to combat the iPhone and devices running Google's Android operating system. At CES 2016 the Alcatel revealed the first new device to run the Windows phone operating system in 2016 that doesn't come with Microsoft's logo on it. That device is called the T-Mobile Alcatel OneTouch Fierce XL.
T-Mobile and Alcatel officially revealed the OneTouch Fierce XL this week at the Consumer Electronics Show in Las Vegas, Nevada. Officially, it's one of only a limited number of devices running Windows 10 to be announced recently. Furthermore, it's the only Windows 10 device announced by a company that'll arrive on an American carrier in the very near future. Microsoft's Lumia 950 is only available on AT&T.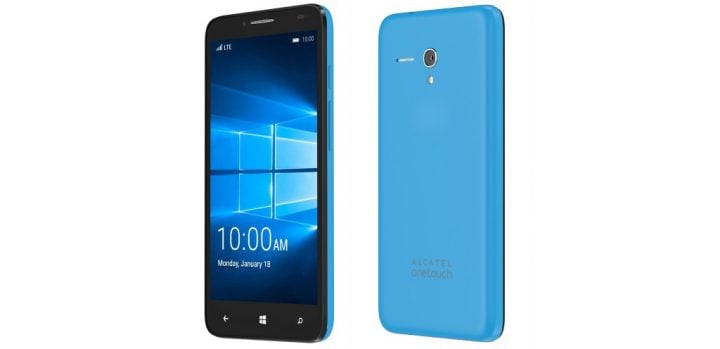 The $139 device is fully featured, even if it's not very exciting. The T-Mobile Alcatel OneTouch Fierce XL has a 5-inch 720P display, Quad-Core Snapdragon processor, 8 megapixel rear-facing camera with digital zoom and a 2 megapixel front-facing camera. There's 2GB of RAM and 16GB of storage too, with the option to add more through a MicroSD card. Alcatel claims talk time of 14 hours.
As it's an official phone that the carrier sells, T-Mobile customers can expect Wi-Fi Calling, 4G LTE and VoLTE wireless data. Besides paying $139 for the phone up-front, T-Mobile customers also have the option to purchase the T-Mobile Alcatel OneTouch Fierce XL with no down payment and monthly up-front payments of $5.84. The carrier is only ready to say that the OneTouch Fierce XL will go on sale, "in the coming weeks."
T-Mobile doesn't have a single Windows Phone available customers today. The company stopped selling Microsoft's Lumia 640 in 2015.