Alienware Fights Next-Generation Consoles with Last-Generation Trade-Ins
With the Xbox One and PlayStation 4 launch dates less than a month away, users are starting to get really excited about the features that the new consoles will bring. It appears gaming PC maker Alienware is looking to capitalize on some of that excitement with a few new tricks of its own.
Starting today, users can trade-in their last-generation gaming consoles to Alienware in exchange for a bank transfer for as much as $200. The deal isn't limited to gaming consoles either, users can also trade-in their gaming desktops and laptops.
The program is great news for anyone thinking about leaving the comfortable but locked down environment that is gaming on a console. PC gamers typically pay less for most games through popular services like Steam. They also aren't required to repurchase their entire collection of controllers and headsets every time there is a generation reset.
On the other hand there are other things to consider. PC gamers routinely upgrade graphics cards so that they can get the best experience for newer titles. They also have somewhat of a smaller AAA big-budget games line-up to choose from. For example, Grand Theft Auto V, the fastest selling entertainment product in the world, isn't yet available on the PC.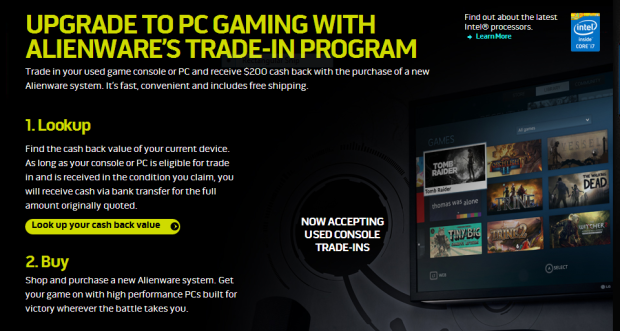 Whether Alienware's trade-in deal is worth it depends on the individual gamer. The company isn't accepting the first-generation Xbox 360 for trade-ins. Users who have the Xbox 360s will need the version with a 250GB hard drive before Alienware accepts their trade-in too. Alienware is accepting all three versions of Sony's PlayStation 3, however users will need a model with at least a 60GB hard drive for the original PlayStation 3, a 120GB hard drive for the second-generation PlayStation 3 and a 500GB hard drive for the third-generation PlayStation 3. The company is also allowing users to turn trade-in all versions of the Wii U for $200 in trade-in credit.
Users have to purchase one of Alienware's gaming PCs, then ship the console they are trading off to Alienware for credit. Alienware is also stipulating that users have a bank account registered in the United States to receive their payoff.
The PlayStation 4 officially replaces the PlayStation 3 on November 15th at a cost of $399, and the Xbox One goes on sale on November 22nd for $499.  The Alienware X51, a gaming PC comparable to the Xbox One and PlayStation 4, is on sale now for $699.

This article may contain affiliate links. Click here for more details.