All I Want for the Holidays Are Peace and Happiness, and an iPad!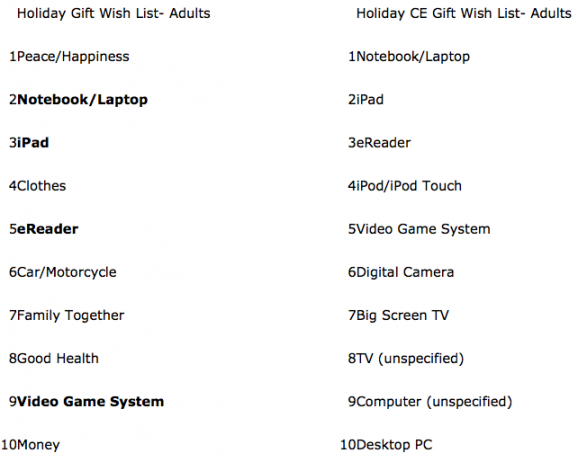 Apple's iPad consumer tablet rounds out the top three most wished for item this holiday season according to a survey that made by the Consumer Electronics Association, the group behind the annual CES trade show of consumer electronics. Following peace and happiness at number one, and laptops in second place, the iPad with its third place ranking had topped other items on the wish list including having the family together, good health and money. The list is as follows:
Peace/Happiness
Notebook
iPad
Clothes
E-Reader
Car/Motorcycle
Family Together
Good Health
Video Game System
Money
At least money didn't come first, and shoppers are recognizing the importance between money and happiness, but somewhere in the middle of money and happiness lies the iPad.
If you are looking for holiday gifts for the geeks in your life, you may want to visit sister site Notebooks.com for some of the best holiday deals, gift ideas, and hot tech to buy for your loved ones (or yourself).
Via: Fortune

As an Amazon Associate I earn from qualifying purchases.