All Things D: Kno to Sell Off Tablet Hardware Biz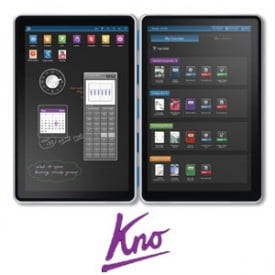 Kara Swisher of All Things Digital is reporting that Kno is having second thoughts about getting into the Tablet hardware biz and is in fact in talks with at least two companies to sell of that part of its business. Kno is the company that has been touting an all in one education solution featuring both a slate and a double screen slate as its hardware entries. The idea is that students would purchase the hardware and their text books on the devices.
Kno is said to be focusing on its software solutions and working to try and set that up for iPads and the other Tablets about to or just entering the market.