All You Ever Wanted To Know and Then Some about Ultra Mobiles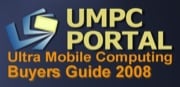 Last week we told you that Steve "Chippy" Paine at UMPCPortal was running a four part Buying Guide for Ultra-Mobiles. The series is some terrific work on Steve's part. Well, if you want to take a look at it off-line now you can. He's put it together in a PDF file for you to download and peruse at your leisure.
Head here to grab your copy.