AllCast Screen Mirroring Now Available as an App for Fire TV
Since its release two weeks ago, Amazon's Fire TV has taken some kudos and taken some lumps from various quarters for various reasons. One of those lumps has been the "lock-in" that keeps users focused primarily on Amazon's content. Even though Apps are available for Netflix, Hulu Plus and other content providers, Amazon, naturally so, favors its own content from its own stores. Other content providers aren't yet integrated into the celebrated Voice Search feature that Amazon offers for its own content. But that's another story, well chronicled that Amazon promises to rectify this by this summer.
But what if you have your own video content that you'd like to stream or mirror to your Fire TV? Plex is one service that will allow you to do just that. But for Android device users there is also an App that will allow you to stream from your Android device or some other cloud services. It's called AllCast. And as of yesterday it's available for the Amazon Fire TV as an App.
Read: Amazon Fire TV: Review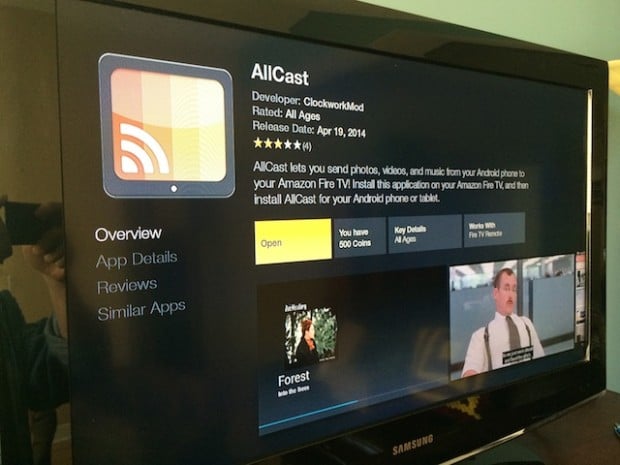 AllCast has been available on the Fire TV prior to the debut of this new App. But you needed to side load the AllCast APK  to your Fire TV, a process that many consumers might find daunting. Instructions to side load Apps to the Fire TV can be found here. But now that the Fire TV AllCast App is available, Android users can stream content from their Android device directly to the Fire TV without having to worry about side loading.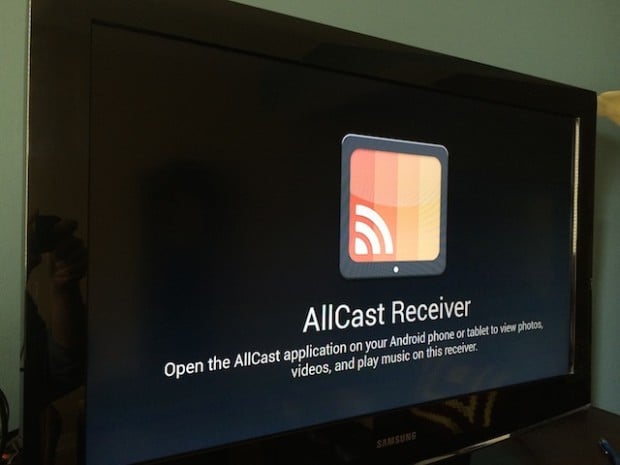 The Fire TV version of AllCast is free to download and to use it you need to install it on your Fire TV, and also the Android version on your Android smartphone or tablet.
On the Fire TV you can find AllCast by looking in Apps/Categories/Entertainment.  On my Fire TV it was the last App in the scrollable list. You can also acquire the App from Amazon's website and have it sent directly to your Fire TV. For your Android device you can find it on the Google Play Store. The AllCast App for Android is free, but you do need to download a separate license key for the premium version of the App. That costs $4.99. The App on your Fire TV acts as a receiver for the App on your Android device.
Once you install the App on both devices you can stream photo, music, and video content directly from your Android device. You can also stream content from cloud services Google Drive or Dropbox. So, if you've ripped (legally) your favorite DVDs and stored them on one of those two services you can select and play them on your Fire TV.
AllCast isn't a perfect solution in this edition. It can be a little slow. But it at least allows Android users to stream some of their content to a Fire TV.
The AllCast App can also be used to stream to Google's Chromecast, Roku, and Apple TV. The App was developed by Koshik Dutta and its availability was announced on his Google+ page.
The encouraging news from a user standpoint is that the AllCast App has been made available relatively quickly for the Fire TV, which is hopefully a good sign that other Apps that work with the Fire TV will continue to be added as quickly.